Officials in at least six Caribbean countries where Britain's Queen Elizabeth II is the head of state have indicated that they want to depose the monarch. These countries follow Barbados, which deposed the queen as head of state in November 2021 to become the region's newest republic.
The appeals came over the course of two months, as members of the British royal family visited the Caribbean on two different occasions this year, provoking protests at each stop. After visiting Antigua and Barbuda, St. Lucia, and St. Vincent and the Grenadines, Prince Edward and Sophie, the Countess of Wessex, will end their six-day Caribbean tour on Thursday. A scheduled stop in Grenada has been postponed, according to Buckingham Palace. In March, Prince William and Kate, Duchess of Cambridge, travelled to Belize, Jamaica, and the Bahamas. 
Local demonstrators in Belize and Jamaica requested a formal apology and restitution from the royal family for their role in the enslavement and brutalization of Africans. According to the Guardian, an official has been recruited to monitor the decoupling process in Jamaica, and Gaston Browne, the prime minister of Antigua and Barbuda, told Edward and Sophie in a meeting that his country aspired to become a republic "one day."
Why is the queen the head of state of these countries?
The British colonised all six Caribbean countries, including Belize, the Bahamas, Jamaica, Grenada, Antigua and Barbuda, and St. Kitts and Nevis, who have stated that they intend to remove the queen as their head of state. However, after each country obtained independence from Britain in the second part of the twentieth century, Elizabeth preserved her position as monarch and each country remained a member of the Commonwealth, which is made up of 54 former British colonies.
Antigua and Barbuda, Australia, the Bahamas, Belize, Canada, Grenada, Jamaica, New Zealand, Papua New Guinea, Solomon Islands, St. Kitts and Nevis, St. Lucia, St. Vincent and the Grenadines, and Tuvalu are among the 14 countries where the queen is head of state. The queen selects a representative—such as a governor-general—who is recommended by the publicly elected leader, such as the prime minister or president, in these Commonwealth territories.
Countries that are Commonwealth members but not Commonwealth kingdoms do not have the queen as their monarch, instead electing a leader from among their own people. Barbados, like all former British colonies that become republics, is still a Commonwealth member. The Commonwealth does not enact laws, but it does provide trade links and, in some situations, a platform for dispute resolution. While the majority of member countries have historical ties to the British Empire, Mozambique and Rwanda, the most recent additions, have never been under British colonial administration.
What do the six Caribbean countries want to happen?
Countries that have called for the queen to be deposed as their sovereign desire exactly that: the opportunity to elect their own head of state to handle domestic and foreign issues without relying on an external body. But the problem is more than a formality: Formerly colonial countries would be making a symbolic break with the empire that enslaved and brutalised their forefathers.
"The movement toward republicanism is based on the belief that it is time for formerly colonised countries to truly live their independence and claim self-determination, rather than being under a monarchical system," said Verene Shepherd, chair of Jamaica's National Commission on Reparations and chair of the United Nations Committee on the Elimination of Racial Discrimination.
Shepherd claims that the British royal family has not accepted responsibility for previous wrongdoings. The royals have made no pledge to openly admit and recognise their family's slavery background. Although William expressed "deep sadness" in a speech in Jamaica in March, stating slavery "should never have happened," observers noted that he did not apologise, as activists in Jamaica had requested. 
How is the queen removed as head of state?
Like a republic, each country would be entitled to establish its own popularly elected leader, as Barbados did last year.
Removing Elizabeth as head of state would need a constitutional amendment in some nations, including Jamaica and Grenada, which would be a lengthy process that could take two to three years. For example, the governments of Jamaica and Grenada would have to call a referendum, and the motion would need a two-thirds majority vote from the public to pass—unlike in Barbados, where a two-thirds majority vote in the country's Parliament was all that was required to swear in the country's first president.
Why are these countries doing this now?
According to Arley Gill, Grenada's ambassador to the Caribbean Community, or Caricom, a regional grouping of Caribbean countries and territories, several leaders of Caribbean countries signalled intentions to become republics as they met with members of the British monarchy during what was essentially a public relations campaign to "brighten up their image" in the so-called global south.
The royals were confronted with protests and demands for reparations—a formal admission of the history of enslavement and recompense for the damage done to Africans and their ancestors—during two trips in March and April, both designed to commemorate Elizabeth's 70-year reign. According to Don Rojas, director of communications and international relations for the Institute of the Black World 21st Century, the issue had died down in recent years, but recent revelations in the press exposing how the royal family directly benefited from slavery have thrust it back onto the political agenda.
The Caribbean's desire to break away from the British monarchy has coincided with a "rising of Black awareness" around the world, including in the Caribbean, partly fueled by the Black Lives Matter movement in the United States, according to Gill. "In many ways, that has spilt over into matters like a referendum and other things."
While the concerns of becoming a republic and receiving reparations are distinct, global demonstrations served as an inspiration and source of support for the Caribbean reparations movement. There are rumblings of pro-republicanism in practically all of the Caricom countries.
What is likely to happen next?
It is debatable. Making the decision to become a republic is a highly national one.
A committee has been established in Jamaica to oversee the process of changing the constitution. They are unable to break from the constitution's modification procedure, but Jamaica is committed to the removal process. The current budget in Belize includes provisions for a constitutional panel to investigate the process of removing the queen. Grenada's politicians have also called for a referendum on the country's status as a republic. "Caricom members have a way of tracking each other," Grenadian journalist Linda Straker stated. "I wouldn't be surprised if we become a republic like Barbados by 2024."
Despite this, some governments have voiced an unwillingness to remove Elizabeth. St. Vincent and the Grenadines, which hosted the royal trip in April, was not one of the six Caribbean countries to declare independence in the last two months. The government attempted to remove the queen in a referendum vote in 2009, but it failed, and the prime minister has stated that he will not organise another referendum. Browne, the prime minister of Antigua and Barbuda, indicated that while his country aims to become a republic, it is "not now on the cards."
However, countries have generally displayed unity in their desire to depose the queen. There is a lot of momentum for republicanism in the Caribbean right now, and it's up to their leaders now to hit the iron while it is hot.
Assassination of Shinzo Abe & Salman Rushdie – Know Real Facts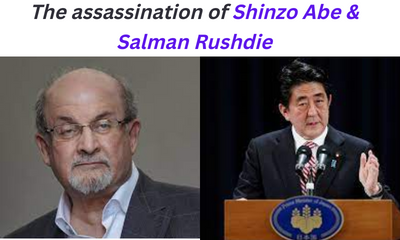 The months July and August of 2022 saw two cases of extermination to promote the fear of terrorism. One of the assassination of Shinzo Abe former Japanese Prime Minister, and another of the famous Novelist Salman Rushdie.
Shinzo Abe succumbed to a gunshot wound, whereas Rushdie's health conditions are improving and he is under medical supervision after the knife attack. However, various assassination attempt of Salman Rushdie has been made during the year.
These two terror acts force us to think about the impact of terrorism on society, the main objective of which is to create an atmosphere of fear so that citizens of the country cannot rely on their government.
This ultimately disturbs the law and order of the society, and serves the terrorists' purpose of creating a chaos.
Here we will see how these two attacks had different reasons but the objective remained the same – to stop someone from propagating his/her opinions independently, and also the factors that make attackers indulge in such acts.
Assassination Attempt of Salman Rushdie – Satanic Controversy
On 12 August 2022, Rushdie was attacked several times by a 24-year-old man Hadi Matar. The attacker's intentions can be linked to Rushdie's fourth novel, The Satanic Verses, published in 1988. Some Muslims considered the novel disrespectful towards Prophet Mohammed.
Soon after its publication, the novel sparked a 'fatwa' or a religious decree. The Iranian revolutionary leader Ayatollah Ruhollah Khomeini called for Rushdie's death in 1989. After, this various assassination attempt of Salman Rushdie has been made.
Complete conversation for Salman Rushdie Assassination:
When asked about the attack Hadi Matar said, "I don't like the person. I don't think he's a very good person. I don't like him very much". He further criticised Rushdie's work by saying, "He's someone who attacked Islam, he attacked their beliefs, the belief systems". Mr. Matar also told New York Post that he had only read 'a couple of pages' of the book and did not tell about whether the fatwa had inspired him or not.
While praising the Iranian religious leader, he stated, "I respect the Ayatollah. I think he's a great person. That's as far as I will say about that".
One can observe that the psychology of the attacker was that he simply disliked the novelist because of his work; although he read only two pages of the novel, but was rather influenced by the religious leaders and their sayings. Just, like this the assassination of Shinzo Abe has been made during this year, which we will discuss on next section.
Perceptions like these can have a long-lasting impact on future generations which can further deteriorate the situation. Violent acts like this demand proper scrutiny of the dissemination of information.
Extremists take advantage of such incidents and brainwash the young minds so that they can be used by them for their selfish purposes.
Assassination of Shinzo Abe – Complete Truth
On 8 July 2022, it was just another day of Abe's political campaign for the upcoming parliamentary elections. He was delivering a speech in Nara City, but no one is the aware about the assassination of Shinzo Abe that day. When a 41-year-old Tetsuya Yamagami shot him twice from behind from a distance of about 10 meters.
During the investigation, he confessed his intentions of killing and it was found that his motives had more to do with religious backing instead of a political reason.
It so happened that Yamagami's mother was a member of a religious group which she joined after her husband's death in 1998. She used to donate huge amounts of money as charity to the group, after the assassination of Shinzo Abe and Yamagami blames the sect for bankrupting his mother.
Confession Statement on Abe Case
The report reveal that Abe was closely associated with the sect, and wanted to take revenge against him for promoting it. "The suspect stated that he held a grudge against a particular organisation and that he committed the crime because he believed former Prime Minister Abe had a connection to it", a senior police officer in Japan's Nara region told reporters.
While the police hasn't given any clarification regarding the unidentified organization, social media in Japan has it that it could be the Unification Church.
Yamagami was unemployed, felt isolated in society, was against religious preaching and blind faith, and wanted to kill the leader of the religious organization but couldn't. One can see the psychological aspects of it that, the killer was anguished with the organisation and blamed them for his conditions and economic turmoil.
Ultimately his grudge converted into a motive of taking revenge for his loss and he did that by killing the perpetrator of the religious group, to give a message to the society and the world that one should avoid themselves from joining or contributing to such groups.
Japan has the strictest gun laws after the assassination of Shinzo Abe , so to bypass such stringent laws the killer used a handmade gun. The occurrence of such incidents in the island nation shows how much resentment the killer has and how strongly he was motivated to commit the murder.
Such incidents are eye-openers for the society that someone's freedom of belief can become others' pain, and teaches that as a society we should try to maintain a balance between them.
Two Paths to Crime
The above two accidents of assassination of Shinzo Abe, and the assassination attempt of Salman Rushdie has been terrifying for the country. First, being a part of a religious group the killer face hardship in his life, which forced him to commit the crime. In the second instance, the attacker got the impression that his religion is being targeted and that it is his responsibility to take revenge so that next time no one dares to do anything like that again.
Interpretation of things based on pre-assumed thoughts can lead to revenge, and revenge based on half-baked knowledge causes harm to the whole humanity, and not just the particular group concerned.