Even coronavirus could not stop Indians from having their wedding moments. Here are some personal stories that trace what dating, engagements and weddings look like in India in 2020.
Are you 'team bride' or 'team groom'? Or are you team "I will cry myself to sleep after watching all the mein tera-mein tera edits"? The usual wedding season was here in India and even COVID-19 could not stop the bride's Din shagna da entry or the groom's friends dancing and tripping on alcohol. The COVID-19 pandemic was harsh on relationships and many believed it to be the test of the times. After a lot of conversation and personal observation, people from the age group of 18-28 do acknowledge the fact that they personally saw changes (mostly surge) in relationships. It was in terms of dating, engagements, and weddings. Have you too?
Needless to say, the pandemic was rain on everyone's parade. Relationships were thoroughly tested during this time. Family dynamics were being explored. Some people found solace to be with their near and dear ones, whereas, some stranded alone. Some were stuck in an abusive household and some grew too large for their loving cocoons. Some held on and some snapped back. It is normal. I will repeat, whatever you are feeling or felt is normal. 
What about bonds other than blood relations? From friends checking on you to rekindling old relations, the lockdown gave space and opportunity to many. Some had to deal with breakups. Sorry, but we hope your future self pats you on your back. Some found love in the time of corona.
Did you know?
Marriage rates shot up post the second world war. History influenced couples' decisions to wed by a lot in the 20th century in the US. For instance, there was a decline in the marriage rate during the Great Depression. However, there was a hike in the marriage rate when the US entered World War II. The couples wanted to get married before the husbands were sent off to the war. Unpredictability was one of the key factors.
Unpredictability still remains one of the key factors during this pandemic too.
Love in the times of Corona?
When talking about dating during this time, respondents had this to say:
"When I was swiping, I honestly was looking for a good conversation only. He turned out to be one of the best gifts of 2020. I had to say a yes," a 21-year-old replied. 
"HOW? How is anyone finding love? I can't find my saved assignment on my own laptop", said a 20-year-old college student.
"Dating during this time is tough. I would rather prefer being alone than crying to someone on text or video calls. We decided to take a break. I will miss her," said a 24 year old professional. 
"I have not felt more single," said a 19 year old from Kolkata. 
"I think that is what 20s are supposed to be all about. The lockdown just made us realise how lonely we are," said a 25-year-old man. 
What about all the weddings?
Escaping a marriage or engagement story would have been difficult for you. Whether it be on social media, within your family or circle or even celebrities for that matter. Is it only about the marriage season or does the pandemic have any effect on it?
A lot of people felt the latter but there were many who shrugged the possibility of it and denoted it to any average Indian wedding season.
"We had our wedding scheduled in April itself. With the sudden travel and gathering restrictions, it had to be postponed. It was a burden for us financially and emotionally too. Hence, we toned our wedding celebrations down and decided to go ahead in December," said a newly-wed couple. 
"Earlier the weddings had upto thousands of people but now the celebrations are very personal. It is an intimate gathering. Now they have extended to 200-300 people max. Budget wise an approx of 15 percent cut is for sure there. The decor is given much more importance now. Every tiny aspect is noticeable and it has to be more personal to the couple. We give our personal touch to everything possible. Home is where all our memory resides. Celebrating the most important part of our lives, the new beginning basically. If the celebration is done from home it matters a lot…", said a Bangalore based event-manager. 
Sometimes history can be marked out through personal lived experiences too. Lived experiences are someone's reality and no one has the right to tell them otherwise. COVID-19 brought a lot of personal stories out there in the media. People spoke more about what they were going through and it did help.
Mail me your stories and experiences. I will always be happiest to read them!
President Joe Biden's Conversation with the Cambodian Prime Minister Hun Sen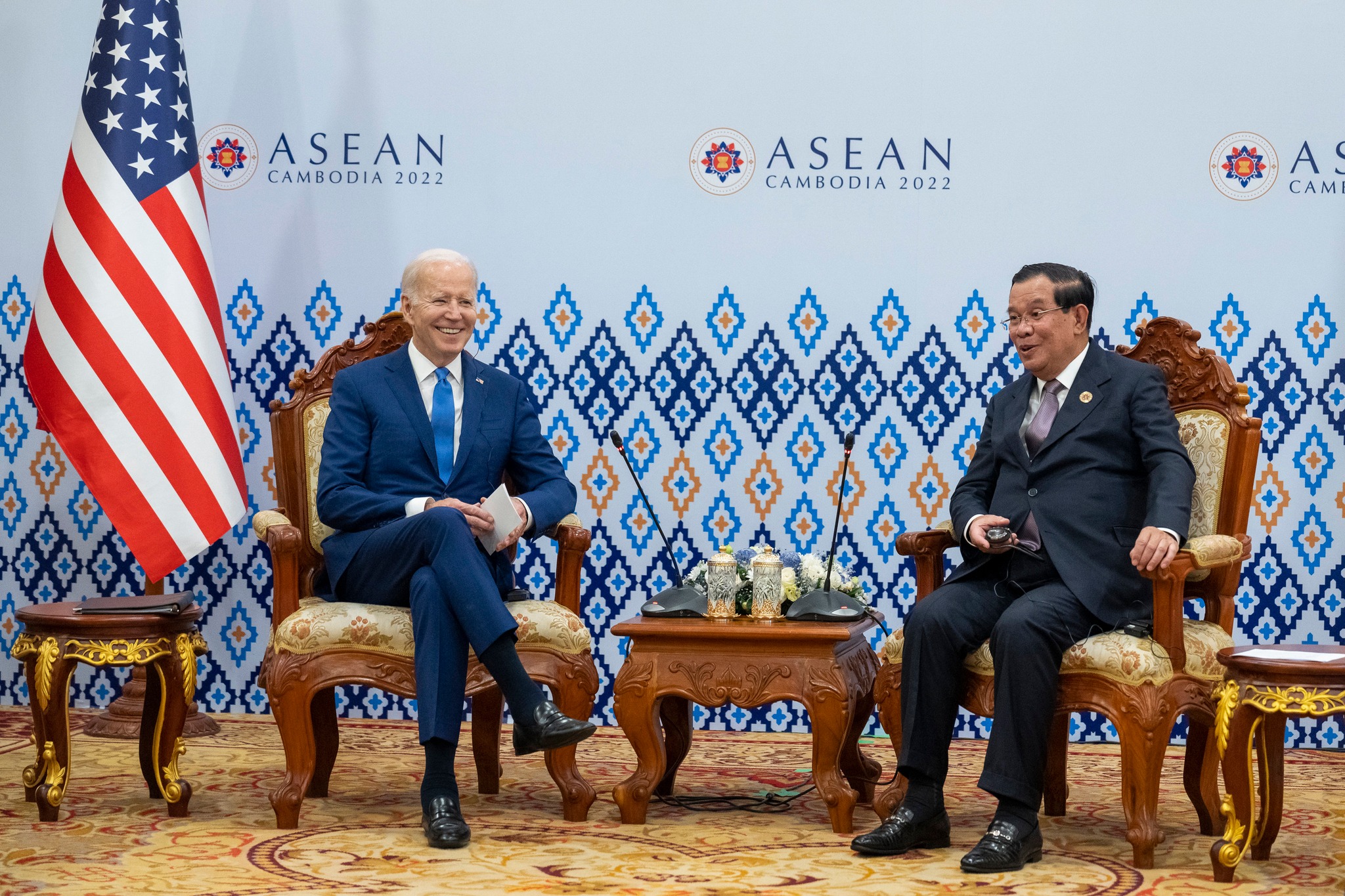 President Joe Biden landed in Cambodia on Saturday and supported the ASEAN nations. Before the eagerly anticipated Group of 20 summits next week in Indonesia, where Biden will meet with Xi for the first time in person since he took office, there will be a weekend of meetings in Cambodia. Before meeting with Xi, the president can engage with US allies at the ASEAN summits and the East Asia Summit on Sunday, both in Phnom Penh.
The US-ASEAN Comprehensive Strategic Partnership, which, according to Biden, "will tackle the biggest issues of our time, from climate to health security, defend against the significant threats to rule-based order and threats to the rule of law, and build an Indo-Pacific that's free and open, stable and prosperous, resilient and secure," was announced as "another critical step" toward building on the group's progress during his remarks at the summit. He cited a budget proposal for $850 million in support for Southeast Asia while praising the US's current financial commitments to ASEAN.
"This is my third journey and third summit, my second in person." The value reflects the United States' commitment to our relationship with ASEAN and our dedication to the region's centrality. The core of the Indo-Pacific strategy of my administration is ASEAN. In his opening remarks to the meeting, Biden said, "And we continue to reinforce our resolve to work in lockstep with an empowered, united ASEAN."
To build on the ASEAN leaders' conference in Washington earlier this year, the president's first meeting in Cambodia was with Prime Minister Hun Sen of Cambodia.
From the beginning of his presidency, Biden "was intent on elevating our engagement in the Indo-Pacific," according to national security adviser Jake Sullivan, and his attendance at the ASEAN and East Asia summits this weekend will highlight his accomplishments to date, including the Indo-Pacific Economic Framework unveiled earlier this year and security partnership initiatives.
"He's coming into this series of summits with that track record of success and purpose behind him, and he wants to be able to use the next 36 hours to build on that foundation to move American engagement forward, as well as to deliver several actual, practical initiatives," Sullivan said.
New initiatives on maritime cooperation, internet connectivity, and economic investment are some of these valuable measures, according to Sullivan. He added that Biden will soon begin a new maritime initiative that will "focus on using radio frequencies from commercial satellites to be able to track dark shipping, illegal and unregulated fishing, and also to improve the capacity of the countries of the region to respond to disasters and humanitarian crises."
Further, he added, Biden will also emphasize a "forward-deployed posture" toward regional defense to demonstrate that the US is actively pursuing security cooperation.
Biden also mentioned a brand-new US-ASEAN electric car infrastructure program during his speech.
He described the project as "a collaborative effort to build an integrated electric car ecosystem in Southeast Asia, enabling the region to achieve sustainable energy, economic growth, and ambitious emissions reduction targets."
Discussions on coordination "to continue to impose costs and build pressure on the junta" will also be centered on Myanmar, which was the subject of a February 2021 coup that ousted the country's democratically elected government.
Key Highlights
Concerns raised by Biden regarding Chinese activity at the Cambodian Ream Naval Base. The president expressed concern over the circumstances at Ream Naval Base and emphasized the value of complete transparency regarding the PRC (China's) military activities there.
The US President congratulated Cambodia's Prime Minister for backing Ukraine at the UN and spoke about the turmoil in military-ruled Myanmar.
President Biden also conveyed his gratitude to Cambodia for supporting resolutions at the UN to defend Ukraine from the brutal assault of Russia.
He thanked Cambodia for holding the ASEAN helm through a trying year.
The leaders "reflection on the historic US-ASEAN Special Summit's success in Washington, DC and applauded plans to establish a US-ASEAN Comprehensive Strategic Partnership at the annual US-ASEAN Summit later that day."
Along with the ASEAN Five Point Consensus, they also discussed the crisis in Burma and ASEAN's reaction, highlighting the international community's crucial role in restoring of democracy and stability in Burma.
In addition, Biden urged releasing activists like Seng Theory and a dual US-Cambodia citizen arrested on politically motivated allegations. The commitment of the United States to the Cambodian people and their goals for a more wealthy, democratic, and independent nation was reaffirmed by President Biden.