Coca-Cola, PepsiCo and Nestle have been accused of "zero progress" on reducing plastic waste.
In the flood of innovative solutions that have emerged in the last several years to save the world from plastic pollution, Coca-Cola, PepsiCo and Nestle have been accused of "zero progress" on reducing plastic waste. These beverage giants have been named as the companies with the worst waste records and the world's top plastic polluters for the third year in a row.
This is 2020, and consumers today are more informed than ever. Consumers today are critically engaged with the brands they love and trust, and therefore many brands now have to take care of their customer's opinions about them. Just simply making the product they love isn't enough, but brands now have to also align with the customers they serve. In today's era where people are well-informed about the products they use, brands especially food and beverages companies, should also focus on creating values that reflect their societal values.
Coca-Cola was ranked the world's Number 1 plastic polluter by an organisation called Break Free From Plastic in its annual audit. The organisation in its survey discovered that in 51 out of 55 nations, Coca-Cola bottles were most frequently found discarded on beaches, rivers, parks, and other litter sites. Last year it was the most frequently littered bottle in 37 countries, out of 51 surveyed.
Coca-Cola's branding was discovered on 13,834 pieces of plastic at 51 of the 55 sites surveyed, more than the combined total of Nestle branding on 8,633 and PepsiCo 5,155, which were the second and third-worst polluters. Meanwhile, in the top five for the second year in a row are Unilever and Mondelez International, which between them own household names like Dove, Magnum, Cadbury, and Oreo.
Companies are falling short on promises over plastics:
An accompanying report by activists from Break Free From Plastic argued that the audit data shows how large multinationals are hiding behind "clever marketing tactics and lofty 'sustainability' goals" while failing to make the meaningful changes to back them up.
Coca-Cola has already refused to abandon plastic bottles despite a growing push to see the brand move away from them. Coca-Cola even came under fire from environmental campaigners earlier this year when the company announced that it would not abandon its plastic bottles. The company is not ready to change its packaging of single-use plastic bottles as they believe that the Coca-Cola bottles are popular among the public and creates a brand value for the company.
Even according to previously held surveys and reports, Coca-Cola and Pepsi are not doing enough to reduce their plastic waste footprint globally. All the companies using plastics for their packaging purposes, earlier have committed to publish annual global data on their plastic footprint, but none of the companies have published this information yet.
Pepsi and Coca-Cola have never publicly committed to reducing the company's use of plastics by 2025, or to invest in reusables or refillables as part of this reduction. Coca-Cola and PepsiCo's commitments are clearly falling significantly short of what is needed to tackle their plastic pollution.
Cola-Cola recently commented that the company is working to address packaging waste, disputing the claim that it was making no progress. A spokesperson for the company said, "Globally, we have a commitment to get every bottle back by 2030, so that none of it ends up as litter or in the oceans, and the plastic can be recycled into new bottles. Bottles with 100 percent recycled plastic are now available in 18 markets around the world, and this is continually growing."
The problem with plastics:
United Nations Environmental Programme (UNEP) has estimated that if current pollution rates continue, there will be more plastic in the sea than fish by 2050. Around eight million tonnes of plastic bottles and waste swamp the oceans each year, killing marine life and entering the food chain. This really harmful for humans as well as for other life forms present on earth.
Ocean plastic is estimated to kill millions of marine animals every year. Nearly 700 species, including endangered ones, are known to have been affected by it. Microplastics have been found everywhere in the ocean that people have looked, from sediments on the deepest seafloor to ice floating in the Arctic which, as it melts over the next decade, could release more than a trillion bits of plastic into the water, according to one estimate.
Find real solutions:
Emma Priestland, the global campaign coordinator for Break Free From Plastics, said these three huge companies "should be leading the way in finding real solutions to their plastic problems." She further added, "We need to stop plastic production, gradually stop single-use plastics and bring in strong reuse systems which will become standard practice."
Coca-Cola, PepsiCo and Nestle should be leading the way in finding real solutions to reinvent how they deliver their products.
President Joe Biden's Conversation with the Cambodian Prime Minister Hun Sen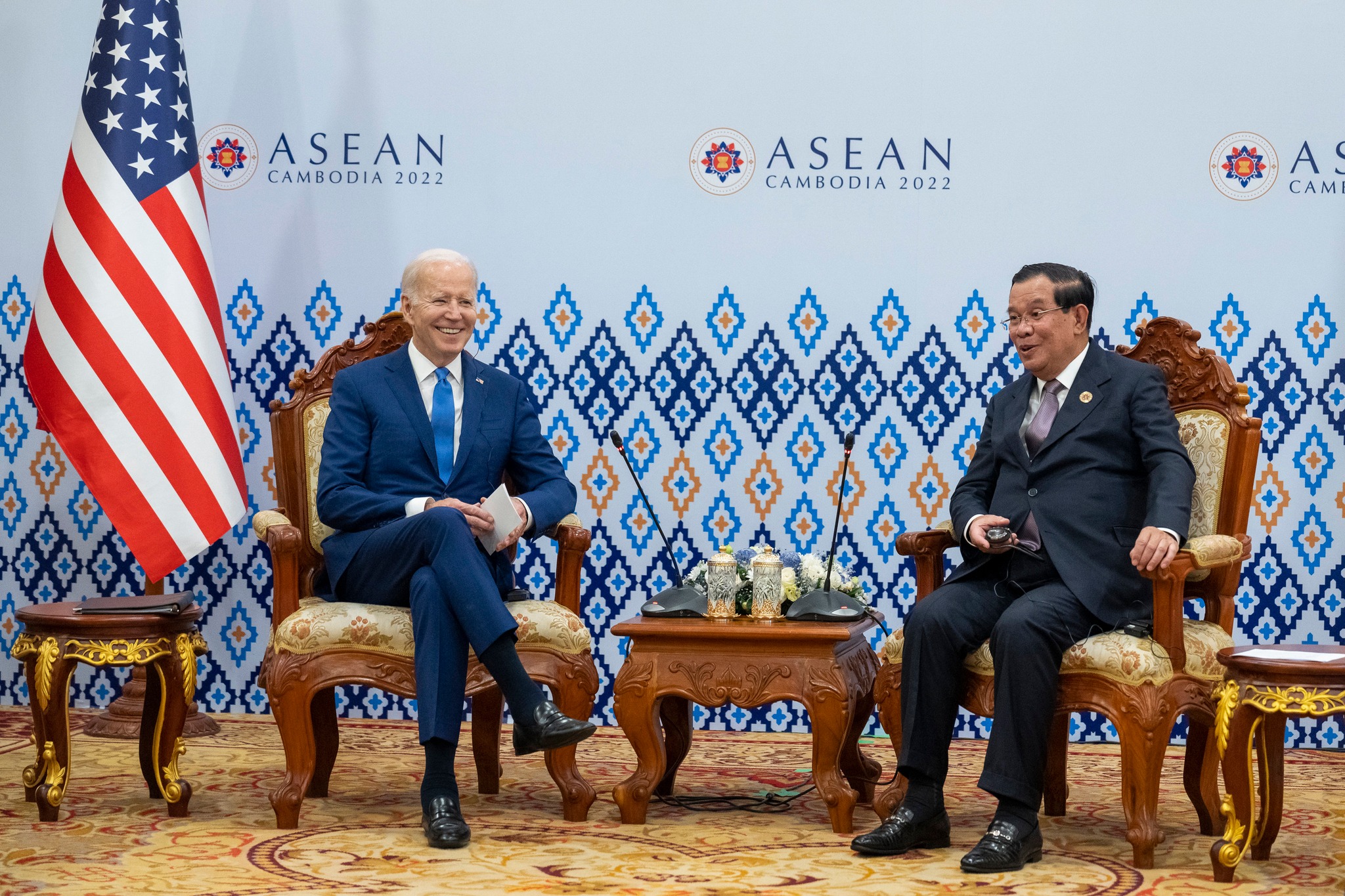 President Joe Biden landed in Cambodia on Saturday and supported the ASEAN nations. Before the eagerly anticipated Group of 20 summits next week in Indonesia, where Biden will meet with Xi for the first time in person since he took office, there will be a weekend of meetings in Cambodia. Before meeting with Xi, the president can engage with US allies at the ASEAN summits and the East Asia Summit on Sunday, both in Phnom Penh.
The US-ASEAN Comprehensive Strategic Partnership, which, according to Biden, "will tackle the biggest issues of our time, from climate to health security, defend against the significant threats to rule-based order and threats to the rule of law, and build an Indo-Pacific that's free and open, stable and prosperous, resilient and secure," was announced as "another critical step" toward building on the group's progress during his remarks at the summit. He cited a budget proposal for $850 million in support for Southeast Asia while praising the US's current financial commitments to ASEAN.
"This is my third journey and third summit, my second in person." The value reflects the United States' commitment to our relationship with ASEAN and our dedication to the region's centrality. The core of the Indo-Pacific strategy of my administration is ASEAN. In his opening remarks to the meeting, Biden said, "And we continue to reinforce our resolve to work in lockstep with an empowered, united ASEAN."
To build on the ASEAN leaders' conference in Washington earlier this year, the president's first meeting in Cambodia was with Prime Minister Hun Sen of Cambodia.
From the beginning of his presidency, Biden "was intent on elevating our engagement in the Indo-Pacific," according to national security adviser Jake Sullivan, and his attendance at the ASEAN and East Asia summits this weekend will highlight his accomplishments to date, including the Indo-Pacific Economic Framework unveiled earlier this year and security partnership initiatives.
"He's coming into this series of summits with that track record of success and purpose behind him, and he wants to be able to use the next 36 hours to build on that foundation to move American engagement forward, as well as to deliver several actual, practical initiatives," Sullivan said.
New initiatives on maritime cooperation, internet connectivity, and economic investment are some of these valuable measures, according to Sullivan. He added that Biden will soon begin a new maritime initiative that will "focus on using radio frequencies from commercial satellites to be able to track dark shipping, illegal and unregulated fishing, and also to improve the capacity of the countries of the region to respond to disasters and humanitarian crises."
Further, he added, Biden will also emphasize a "forward-deployed posture" toward regional defense to demonstrate that the US is actively pursuing security cooperation.
Biden also mentioned a brand-new US-ASEAN electric car infrastructure program during his speech.
He described the project as "a collaborative effort to build an integrated electric car ecosystem in Southeast Asia, enabling the region to achieve sustainable energy, economic growth, and ambitious emissions reduction targets."
Discussions on coordination "to continue to impose costs and build pressure on the junta" will also be centered on Myanmar, which was the subject of a February 2021 coup that ousted the country's democratically elected government.
Key Highlights
Concerns raised by Biden regarding Chinese activity at the Cambodian Ream Naval Base. The president expressed concern over the circumstances at Ream Naval Base and emphasized the value of complete transparency regarding the PRC (China's) military activities there.
The US President congratulated Cambodia's Prime Minister for backing Ukraine at the UN and spoke about the turmoil in military-ruled Myanmar.
President Biden also conveyed his gratitude to Cambodia for supporting resolutions at the UN to defend Ukraine from the brutal assault of Russia.
He thanked Cambodia for holding the ASEAN helm through a trying year.
The leaders "reflection on the historic US-ASEAN Special Summit's success in Washington, DC and applauded plans to establish a US-ASEAN Comprehensive Strategic Partnership at the annual US-ASEAN Summit later that day."
Along with the ASEAN Five Point Consensus, they also discussed the crisis in Burma and ASEAN's reaction, highlighting the international community's crucial role in restoring of democracy and stability in Burma.
In addition, Biden urged releasing activists like Seng Theory and a dual US-Cambodia citizen arrested on politically motivated allegations. The commitment of the United States to the Cambodian people and their goals for a more wealthy, democratic, and independent nation was reaffirmed by President Biden.