China and Russia are the two biggest superpowers in Asia in all aspects. While Russia is known for extorting and intimidating smaller states with their guns and guts, China's 'debt-trap' nature of luring smaller states into exorbitant loans against marginal assets is also widely owned. Therefore, the other powerful countries of the World, especially the US has time and again voiced their concern over the unfair trade practices and governing style of China and have further promised to shelter and protect the states, victim of Chinese tactics.
The US has been pressing on this subject since the over-border tensions between India and China have increased in 2020. Senior US official Alice Wells, Outgoing Acting Assistant Secretary of State, expressed her disappointment and described Beijing's actions as 'disturbing behavior'. Needless to say, Chinese activities in the South China Sea and encroaching on the boundaries of India are nothing short of a potential threat that should be getting a global journalistic coverage and proper tending by the world. The US Official further went on to describe that China's aggressive steps in distorting inter-state, inter-continental peace and harmony can no longer be ignored. The continuous provocations and instigations by China raise questions about how the country aims to use its growing power.
US's passive intent of intervention is not just limited to India's agony due to China but also to other smaller states like Taiwan. Taiwan is in a much more vulnerable position than India. The tensions between Taiwan and China have increased manifold in the last year. Thanks to the ever-so pertinent territorial-control greed of China, the mammoth nation now eyes the Taiwan island. And in furtherance of so, a record number of Beijing dozens of warplanes have been seen flying into Taiwan's air defense zone thereby vocalizing the intent of military action. As a consequence, President Biden has pledged to defend Taiwan in case of a Chinese invasion.
India's Furrow on Forehead intensifies as China inches closer
Buried and hidden in the Great Himalayas, covert deployment of Chinese militants in Arunachal Pradesh, setting up of industrial shelter in Sri Lanka and parts of the Indian Ocean, the trails of China's venom feathers enveloping India from all fronts is a worrisome condition nonetheless. Furthermore, China's present grasp on Sri Lanka's financial matters and by virtue almost its sovereignty risks India's stability. Other neighboring countries like Pakistan, Afghanistan, and other smaller units like Maldives, Kazakhstan, etc. are also being parented under the loans and monetary assistance of China and are in cuffs by the Communist country.
It is further imperative to mention that China is currently operating bad faith concerning its dialogue between Indian bureaucrats and diplomats. The friction points in Eastern Ladakh have been a major talking point between the countries. However, no headway was made in the Talks held on October 10, 2021, and the meeting ended in a stalemate. The Indian Army though provided some constructive suggestions but they same were discarded by the Chinese side and were neither responded by any counter-proposal. The next subsequent talks held on November 18 were also redundant in their entirety as neither of the parties resorted to an amicable resolution.
While India is currently anticipating stringent military action from all fronts, the Ladakh border adds a great deal to India's national security as well as provides a strategic as well as geographical edge to China. The Pangong lake clash 2020 between Indian and Chinese militaries on May 5, 2020, has been the fundamental reason behind the talks as the Line of Actual Control (LAC) has around 50,000 to 60,000 troops from either side. The deployment of such a huge number of militaria troops has certainly invited global attention. The US and several other world powers have therefore been talking in furtherance of ensuring and maintaining a free, open, and thriving Indo-Pacific whilst considering the backdrop of China's rising military maneuvering in the resource-rich region. Pertinent to mention, that China has built artificial islands and military installations in South China as well as asserted control over regions in the East China sea to counter territorial disputes with Japan.
America has therefore voiced its position concerning China's actions. Affirming the popular sentiment that China's current actions of intimidating its neighbors can destabilize world peace at most and therefore, America will continue to stand with its partners. The Press Secretary of the White House Jen Psaki has remarked that the US continues to closely monitor the situation along the India-China border and the country believes in and encourages dialogue and peaceful resolution of the everlasting border disputes. However, if China continues with its vicious act of intimidating and harassing the neighboring countries, the US will stand tall and together with its allies. The statement was further supported by the American naval forces and air forces who were witnessed patrolling through the South China Sea, challenging China's claims of sovereignty over the area and maintaining the freedom of the area for navigation and trade.
The US to lend support to Taiwan in any case of Militaria Crisis
The tensions between the two nations can be traced back to 1958 ever since the People's Republic of China bombed the Jinmen, Mazu, and Dachen islands under Taiwan's control. The US was naturally drawn into this crisis as Congress passed the Formosa Resolution authorizing President Dwight D Eisenhower to defend the Republic of China (Taiwan) territory. Both the countries look forward to the Bandung Conference in furtherance of stabilizing peace. However, after the bombings in Lebanon in 1958 which caused a catastrophic civil war, the situation became worse and remained passively grim since 1971 with minimum but significant bombings in and around Taiwan.
The period of 1995-96 was the one that documented the most serious encounter between the two countries as China started testing its missiles in the seas around Taiwan which eventually led to the biggest US mobilization in the region since Vietnam War. Post-1995, numerous elections shave happened and eminent changes have been witnessed in the governing regime of Taiwan but the issue between the PRC and RoC remains sour and well, stagnant.
The pro-independence wind in Taiwan is intensifying every single day, following the footsteps of Hong Kong, and is, therefore, a major concern for China as it has major economic interests in Taiwan, thanks to its geo-strategic location and resourceful territory. China even conducted a military exercise in the Taiwan Strait. Furthermore, President Xi Jinping instructed the People's Liberation Army for war which triggered Taiwan as it construed it as an open threat. It is in this regard that President Biden in his recent years of Presidentship, vowed to defend Taiwan in case of an attack. Boasting about America being the most powerful military in the world, Biden has assured us that there is no reason to worry with respect to Taiwan's safety and China's military development.
While the US has no official diplomatic ties with Taiwan and no policy change is promised, the Taiwan Relations Act entails the provision that the US shall and must provide the means (arms, ammunition, and manpower) to Taiwan to defend itself. Therefore, the backdoor provision would not only provide the US to actively contribute in case of a high-tech lethal weaponry attack but also has an invariable legal framework that can shield itself in case of international disputes and global uproar. Needless to say, no uproar is likely to be withheld against the US as most powerful nations like Australia and Japan are likely to be in protection for Taiwan. However, already reeling from a Covid-stunted trade and economic hiccup along with global backlash due to the 'in-home synthesis of Corona' conspiracy, the cooler heads in the Chinese government would not be considering an imminent assault.
Assassination of Shinzo Abe & Salman Rushdie – Know Real Facts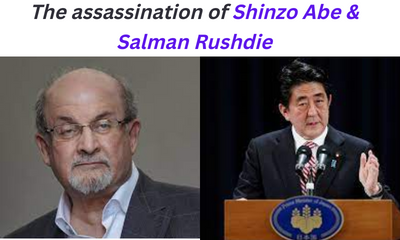 The months July and August of 2022 saw two cases of extermination to promote the fear of terrorism. One of the assassination of Shinzo Abe former Japanese Prime Minister, and another of the famous Novelist Salman Rushdie.
Shinzo Abe succumbed to a gunshot wound, whereas Rushdie's health conditions are improving and he is under medical supervision after the knife attack. However, various assassination attempt of Salman Rushdie has been made during the year.
These two terror acts force us to think about the impact of terrorism on society, the main objective of which is to create an atmosphere of fear so that citizens of the country cannot rely on their government.
This ultimately disturbs the law and order of the society, and serves the terrorists' purpose of creating a chaos.
Here we will see how these two attacks had different reasons but the objective remained the same – to stop someone from propagating his/her opinions independently, and also the factors that make attackers indulge in such acts.
Assassination Attempt of Salman Rushdie – Satanic Controversy
On 12 August 2022, Rushdie was attacked several times by a 24-year-old man Hadi Matar. The attacker's intentions can be linked to Rushdie's fourth novel, The Satanic Verses, published in 1988. Some Muslims considered the novel disrespectful towards Prophet Mohammed.
Soon after its publication, the novel sparked a 'fatwa' or a religious decree. The Iranian revolutionary leader Ayatollah Ruhollah Khomeini called for Rushdie's death in 1989. After, this various assassination attempt of Salman Rushdie has been made.
Complete conversation for Salman Rushdie Assassination:
When asked about the attack Hadi Matar said, "I don't like the person. I don't think he's a very good person. I don't like him very much". He further criticised Rushdie's work by saying, "He's someone who attacked Islam, he attacked their beliefs, the belief systems". Mr. Matar also told New York Post that he had only read 'a couple of pages' of the book and did not tell about whether the fatwa had inspired him or not.
While praising the Iranian religious leader, he stated, "I respect the Ayatollah. I think he's a great person. That's as far as I will say about that".
One can observe that the psychology of the attacker was that he simply disliked the novelist because of his work; although he read only two pages of the novel, but was rather influenced by the religious leaders and their sayings. Just, like this the assassination of Shinzo Abe has been made during this year, which we will discuss on next section.
Perceptions like these can have a long-lasting impact on future generations which can further deteriorate the situation. Violent acts like this demand proper scrutiny of the dissemination of information.
Extremists take advantage of such incidents and brainwash the young minds so that they can be used by them for their selfish purposes.
Assassination of Shinzo Abe – Complete Truth
On 8 July 2022, it was just another day of Abe's political campaign for the upcoming parliamentary elections. He was delivering a speech in Nara City, but no one is the aware about the assassination of Shinzo Abe that day. When a 41-year-old Tetsuya Yamagami shot him twice from behind from a distance of about 10 meters.
During the investigation, he confessed his intentions of killing and it was found that his motives had more to do with religious backing instead of a political reason.
It so happened that Yamagami's mother was a member of a religious group which she joined after her husband's death in 1998. She used to donate huge amounts of money as charity to the group, after the assassination of Shinzo Abe and Yamagami blames the sect for bankrupting his mother.
Confession Statement on Abe Case
The report reveal that Abe was closely associated with the sect, and wanted to take revenge against him for promoting it. "The suspect stated that he held a grudge against a particular organisation and that he committed the crime because he believed former Prime Minister Abe had a connection to it", a senior police officer in Japan's Nara region told reporters.
While the police hasn't given any clarification regarding the unidentified organization, social media in Japan has it that it could be the Unification Church.
Yamagami was unemployed, felt isolated in society, was against religious preaching and blind faith, and wanted to kill the leader of the religious organization but couldn't. One can see the psychological aspects of it that, the killer was anguished with the organisation and blamed them for his conditions and economic turmoil.
Ultimately his grudge converted into a motive of taking revenge for his loss and he did that by killing the perpetrator of the religious group, to give a message to the society and the world that one should avoid themselves from joining or contributing to such groups.
Japan has the strictest gun laws after the assassination of Shinzo Abe , so to bypass such stringent laws the killer used a handmade gun. The occurrence of such incidents in the island nation shows how much resentment the killer has and how strongly he was motivated to commit the murder.
Such incidents are eye-openers for the society that someone's freedom of belief can become others' pain, and teaches that as a society we should try to maintain a balance between them.
Two Paths to Crime
The above two accidents of assassination of Shinzo Abe, and the assassination attempt of Salman Rushdie has been terrifying for the country. First, being a part of a religious group the killer face hardship in his life, which forced him to commit the crime. In the second instance, the attacker got the impression that his religion is being targeted and that it is his responsibility to take revenge so that next time no one dares to do anything like that again.
Interpretation of things based on pre-assumed thoughts can lead to revenge, and revenge based on half-baked knowledge causes harm to the whole humanity, and not just the particular group concerned.