There are days when you wake up to news that leaves you in deep introspection. One such day was 3rd February – when a freight train derailed in Ohio. The incident did set off evacuation orders, a toxic chemical scare and a federal investigation; but it set my mind in a whirlpool of thoughts and emotions…all of which revolved around weaponizing chemicals as a future of war.  
We can't go on much longer morally. We can't go on much longer scientifically. The technology that was supposed to save us is ready to destroy us.

– Billy Graham
But first, 
What is Chemical Warfare?  The use of toxic properties of chemical substances as weapons is called Chemical warfare. 
When was Chemical Warfare First Used? 
Fritz Haber, is considered the 'father of chemical warfare' for his work in developing and weaponizing chlorine and other poisonous gases during World War I.
But was it first used only during WW1? 
Definitely not. 
Some evidence of chemical warfare in western literature dates back to Ancient Greek myths, where Hercules uses poisoned arrows.
In the Hindu epics Ramayana' and 'Mahabharata', chemical warfare is mentioned in some of the earliest surviving passages. Poison and fire arrows are forbidden in the "Laws of Manu," (also called the Manava Dharma Shastra) a Hindu book on statecraft written around 400 BC. 
History, Development and Use of Chemical Weapons in Warfare 
According to ancient Greek historians, Alexander came into contact with poison arrows and fire incendiaries during his siege in India in the fourth century BC. There are also stories that Chinese were acquainted with arsenical smoke as far back as 1000 BC, and Sun Tzu's "Art of War" (about 200 BC) recommends the usage of fire weapons. In the West, chemical warfare first appeared in writing in the fifth century BC, during the conflict between Sparta and Athens. During the Roman-Persian War, the oldest archaeological evidence of chemical warfare was discovered in the form of Bitumen and sulphur crystals. According to historian David Hume, quicklime, another name for calcium oxide, may have been employed in mediaeval naval battles, during the regime of Henry III in England.
Modern Era (World War I & II and in-between years) 
Technically the French army first used toxic tear gas in WWI. In October 1914 Germany used dianisidine chlorosulfonate against British troops. Again, in January of 1915, it used xylyl bromide at Russian forces near Poland.  On April 22, 1915, Germany orchestrated its most deadly gas attack in WWI. It released chlorine gas from canisters and with the help of wind the gas was carried into the trenches of French, Canadian and Algerian soldiers.
After WWI several countries started developing and stockpiling chemical weapons in the fear of chemical warfare. 
Allegedly in 1920, British troops used chemical gas in Mesopotamia against the Iraqi revolt, on the order of Prime Minister Winston Churchill.

Noam Chomsky, a historian, claimed that Winston Churchill at the time was keen on chemical weapons, suggesting they be used "against recalcitrant Arabs as an experiment", and that he stated to be "strongly in favour of using poisoned gas against uncivilised tribes".
The

Soviet Union used poison gas against the Tambov rebellion in 1921

in the order of Lenin. Again, it used

mustard gas in Central Asia against Basmachi Rebels

. In 1934, during the invasion of Xinjiang province, the Soviet forces used mustard gas from the air at the battle of Dawn Chang.
From 1921 to 1927 the Rif war was fought between Spain and Morocco.

Spanish forces used phosgene, diphosgene, chloropicrin and mustard gas against the civilian population, markets and rivers, with the help of 127 bomber aircraft.

These attacks marked the first widespread employment of gas warfare in the post-WWI era.
In January 1928,

Italy used several poison gases with mustard gas against Senussi forces in Libya

. Under the fascist regime of Benito Mussolini, Italy fought the 2

nd

Italo-Abyssinian war from 1935 to 1939 with Ethiopia. In these years Italy used chemical weapons on a massive scale, ignoring every treaty and international pressure.

In February and March of 1936 Italian forces launched the most devastating attack not only on Ethiopian troops but also on the civilians, rivers and crop fields.
Germany in the years after WWI accelerated itself in chemical warfare. In the 1920s it collaborated with the USSR in developing chemical weapons. However,

chemical warfare was revolutionized by Nazi Germany's discovery of the nerve agents tabun (in 1937) and sarin (in 1939).
Nazi Germany & Transformation of Chemical Warfare
Nazi Germany did not use chemical gases frequently to attack the Axis power in the fear of retaliation. However, it extensively used them on its minority citizens to feed and sustain its propaganda of "supreme race theory". During Holocaust (a genocide committed by Nazi Germany) millions of Jews, Slavs, and others were gassed with carbon monoxide and hydrogen cyanide included with Zyklon B. This remains to be the most devastating use of poison gas. 
The Nazis experimented on prisoners from concentration camps extensively – and some of these tests included the study of the effects of the nerve gas, Tabun. Not only were these prisoners used as guinea pigs for chemical testing, but Hilter also used them as his labour force to manufacture the gas in secret.
The western allies did not use Chemical weapons on the battlefield, and also avidly against their uses, except Winston Churchill. He on several occasions promoted the use of it but failed due to the discouragement of his allies.
Post-modern Era – The problem right now!
After the war, Britain and the US started developing much more potent nerve agents than Nazi Germany. However, those were thankfully never used in a war. 
The most extensive post-World War II use of chemical weapons occurred during the Iran-Iraq War (1980–88), in which Iraq used nerve agents such as sarin and tabun, as well as riot-control agents and blister agents like sulphur mustard. 
Iraq's chemical weapons strikes claimed the lives of about 100,000 Iranian soldiers. Mustard gas struck many people. The children and relatives of soldiers, many of whom have experienced blood, lung, and skin ailments, as well as the civilian population poisoned in neighbouring towns are not included in the official estimate. According to the Organization for Veterans, 20,000 Iranian soldiers were instantly killed by nerve gas, according to official reports. Out of the 80,000 survivors, 5,000 consistently needed medical attention, and 1,000 still required hospitalisation for serious, chronic illnesses.
Prevention & Hope for a Safer Future
The first action taken to address this issue was a proposal that was passed Hague Conference in 1899. This proposal was followed by the Second Hague Convention, which forbids the use of "poison or poisoned weapons" in combat, become operative on January 26, 1910. Then came the Geneva Convention of 1925, which put forth and established severe prohibitions against the use of chemical weapons in war.
But the most significant decision came in April 1997, with the entry into force of the Chemical Weapons Convention (CWC)—the world's first multilateral disarmament agreement. Under CWC, the Organisation for the Prohibition of Chemical Weapons (OPCW) was formed as an intergovernmental organisation and the implementing body. With 193 members, this organisation pledges to destroy and prevent the manufacturing of their chemical weapons. 
India was the only country to meet its deadline for the destruction of chemical weapons and the OPCW inspection of its facilities by the year 2005 out of the six countries that had revealed their possession of chemical weapons. India was given an extension to destroy all of its chemical weapons and material stockpile by April 2009 after having already destroyed more than 75% of them by 2006. India informed the UN on May 14, 2009, that its chemical weapons stockpile had been eliminated.
There are still massive amounts of chemical weapons present at disposal of several countries. Though we see less and less use of chemical weapons in warfare nowadays, living in this volatile time, we still have a long way to go for a world free of Chemical warfare.
The Few & The Fearless – Meet India's Marine Commandos aka MARCOS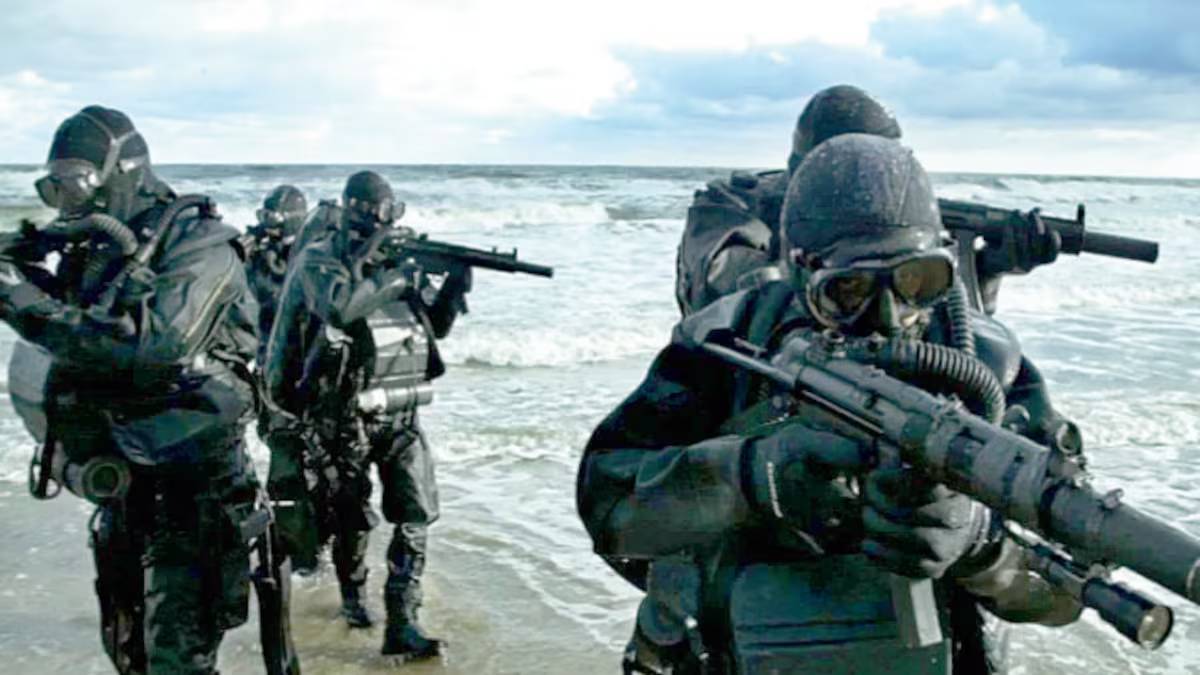 It is believed that if there is a ghost in the water, it must be a MARCOS.
Regarded as the crocodile of the Indian Navy, the Marcos or the Marine Corps of the Indian Navy is a naval infantry force that is tasked with amphibious warfare, coastal defence, and maritime security. 
The member of these corps can operate in all types of environments; at sea, in the air and on land, undertaking a wide range of missions, such as counter-terrorism, special reconnaissance, direct action, hostage rescue and unconventional warfare. 
They have earned a reputation for being one of the world's most elite and highly skilled special forces units, gaining names such as the 'Magarmach' (The Crocodiles), the 'Dadhiwala Fauj' (The Bearded Army) and the 'Tigers of Drass'.
India's Elite Naval Commando Unit – Who are the Marine Commandos aka Marcos?
Established in February 1987, the MARCOS was originally named Indian Marine Special Force, which was later changed to Marine Commando Force to impart "an element of individuality" to it. This corps came into existence after the Indian Navy realized the need for a special forces unit that could conduct maritime special operations and protect the country's vast coastline and strategic maritime assets. The Marcos were inspired by the US Navy SEALs and received training from them in the initial years. They also trained with other foreign special forces units such as the Russian Spetsnaz and the Israeli Sheeted 13. The MARCOS gradually developed their doctrine, tactics and equipment, and became an independent and formidable force.
In times of crisis, these troops achieved many feet which were deemed impossible. 
Here are some of the missions executed by Marcos.
Operation Cactus
A military intervention to foil a coup attempt by mercenaries on the Maldives in 1988.
In 1988, Marcos we're called on to intervene in the Maldivian crisis and prevent a military coup that was taking place. 
This operation was launched within hours of receiving the request from President Gaydom, who was under siege by a group of Maldivians led by businessman Abdullah Luthufi and aided by armed mercenaries of the People's Liberation Organisation of Tamil Eelam (PLOTE), a Tamil secessionist organisation from Sri Lanka. About 500 Indian paratroopers were airlifted from Agra to Malé, where they controlled the airport, crossed across to the capital in boats, and engaged the mercenaries in a heavy firefight. Off the coast of Sri Lanka, they also intercepted the hijacked cargo that was carried in the mercenary army.
The Marcos were not only successful in rescuing the Maldives' President but they also restored the country's rightful administration. 
Operation Leech
In 1998, a clandestine operation was carried out in the Andaman and Nicobar Islands to kill a group of Burmese insurgents involved in arms smuggling and drug trafficking.
Six rebel leaders were murdered and several others were captured by the MARCOS. A team of 12 MARCOS led by Lieutenant Commander Praveen Kumar invaded the island of Landfall, where the rebels had established a base. They pretended to be arms dealers and duped the insurgents into a trap. They then opened fire, killing six rebel leaders, including Wasanti, their leader. They also took several guns and explosives from the insurgents. 
The operation dealt significant damage to the rebel network and hindered their operations in the region.
Operation Pawan
In 1987-1990, a peacekeeping mission was launched in Sri Lanka to disarm Tamil insurgents and implement a cease-fire agreement.
Against the LTTE, the MARCOS performed amphibious raids, surveillance, and sabotage missions. This operation was part of India's engagement in the Sri Lankan Civil War, to resolve the ethnic conflict between the Sinhalese majority and the Tamil minority. The MARCOS and the Indian Peace Keeping Force (IPKF) were deployed to help the Sri Lankan government execute the Indo-Sri Lanka Accord, giving autonomy to the Tamil provinces. The MARCOS conducted many daring missions against the LTTE, who were hostile to the agreement, and continued its military battle for an independent Tamil state. 
The operation was difficult and controversial, resulting in heavy casualties for both India and Sri Lanka.
Kargil War
The MARCOS provided naval support and intelligence to the Indian Army and Air Force during the Kargil War of 1999.
They also played a vital role in providing naval blockade, surveillance and reconnaissance to prevent any Pakistani naval intrusion or assistance to their ground forces. They conducted a covert operation codenamed Operation Talwar, which involved landing on an unguarded beach near Gultari, where they destroyed a Pakistani supply base that was supporting their troops on Tiger Hill. 
The operation was a success and inflicted heavy damage on the Pakistani logistics. The war ended with India regaining control of all its territory and Pakistan withdrawing its forces under international pressure.
Operation Black Tornado
The most sophisticated and crucial mission in the history of the Indian military, was a counter-terrorism operation in Mumbai in 2008 to neutralize the attacks of 26/11.
The MARCOS stormed the Taj Mahal Hotel and engaged the terrorists in a fierce gun battle. The terrorist attack killed 166 people and injured over 300 others. The MARCOS were among the first responders to reach the Taj Mahal Hotel, where four terrorists had taken several guests and staff as hostages. The MARCOS entered the hotel from different directions and engaged the terrorists in close combat for over 60 hours. They faced several challenges such as a lack of communication, coordination and intelligence, as well as booby traps, grenades and fire set by the terrorists. They also faced criticism from some media outlets for their perceived delay and inefficiency. Despite these difficulties, they managed to kill all four terrorists inside the hotel and rescue most of the hostages alive. They also prevented any further damage or loss of life at other locations such as Nariman House and Oberoi Trident Hotel, where other security forces were involved in similar operations.
This operation was one of the longest and most complex urban counter-terrorism operations in India's history. 
Operation Cyclone
This operation was carried out after Cyclone Phailin, one of the strongest tropical cyclones ever recorded in India, made landfall near Gopalpur in Odisha on 12 October 2013.
The cyclone caused widespread damage to infrastructure, crops and livelihoods, affecting over 13 million people across Odisha and Andhra Pradesh states. The MARCOS were deployed along with other naval assets to provide relief and rescue operations to the affected areas. They used their boats, helicopters and amphibious vehicles to evacuate people from flooded villages, distribute food packets, water bottles and medicines, clear roads and debris, restore power lines and communication networks, repair damaged buildings and bridges, conduct medical camps and sanitation drives, etc. They also coordinated with other agencies such as NDRF, NDMA, state governments, NGOs, etc., for effective relief work. The operation was a success and helped mitigate the impact of Cyclone Phailin on millions of people.
Awards & Achievements of Marcos
While most of the work of these commandos is done in the shadows, some members of this troop have time to time given their life for the nation. 
Major Sandeep Unnikrishnan, Awarded the Ashoka Chakra, India's highest peacetime gallantry award, posthumously for his valour during Operation Black Tornado. He led his team in the Taj Mahal Hotel and fought terrorists in close combat, ultimately losing his life while trying to rescue an injured fellow commando. 
– Photo Unavailable
Lieutenant Commander Praveen Kumar, Awarded the Shaurya Chakra, India's third-highest peacetime gallantry award, for his leadership during Operation Leech. He and his team successfully infiltrated the island of Landfall, posing as arms dealers, and eliminated six rebel leaders.
Lieutenant Commander Abhinav Nagori, Awarded the Nao Sena Medal (Gallantry), India's fourth highest peacetime gallantry award, for his bravery during Operation Cyclone. He and his team used amphibious vehicles to rescue people from flooded villages in Odisha, distributing relief materials and restoring essential services.
The MARCOS are some of India's finest soldiers who have made significant contributions to their country's security and saved lives in various challenging situations. They are a force to reckon with in the Indian Navy and the Indian Armed Forces. They have proved their mettle in various operations and missions across the globe and have earned the respect and admiration from their counterparts and adversaries alike. 
These few and fearless marine commandos of the Indian Navy, are a source of pride and inspiration for the nation and its people.