When confronted with China's export machine—which produces everything from 5G telecoms gear to plastic Christmas trees and everything in between—a common complaint among Americans is that the US "doesn't make anything anymore." Americans produce more and better than anybody else the ideals and culture that make the contemporary world tick, from inalienable rights to Iron Man. China has long tried to reduce the gap, proposing ideas like "community of shared destiny" and "win-win cooperation," but nothing has taken hold.
Xi Jinping, China's president, may perhaps be onto something. Journalists, academics, and corporate leaders in China have embraced his latest watchword, "common prosperity," with the zeal that only a tyrant can inspire. Common prosperity has primarily been a Chinese concept for internal use, but it may soon be exported. The concept might become a crucial node in Xi's ever-expanding lexicon of rhetoric aimed at increasing Beijing's influence in foreign affairs and reshaping the world order in China's authoritarian interests.
One of the major successes of the post-World War II American world order was to establish democracy as the ultimate form of political organisation, the benchmark by which all countries are measured. Xi is questioning the significance of liberal ideas, which casts a pall on his brutal regime. His war of words is part of a larger battle for principles and ideas that could be just as essential for America's future global supremacy as any other facet of the US-China conflict—economic, technological, or military. The outcome will have an impact on how the world views democracy, human rights, and open societies, as well as whether liberal political values can survive the rise of authoritarianism.
Common prosperity could be the hook Xi is looking for. After all, who doesn't enjoy the idea of a fair economic policy that benefits the common man? It enables Xi to draw a clearer distinction between China's "socialism with Chinese characteristics" and American-style unrestrained capitalism, allowing him to advocate China's development model as a superior form of economic management for the rest of the world. "Common prosperity might occupy a crucial place in Beijing's public diplomacy and in its fight with the West for ideological influence in global governance and international affairs," Eurasia Group analysts Neil Thomas and Michael Hirson said in a recent paper.
In this way, Xi's "common prosperity" is the polar antithesis of President Joe Biden's "middle-class foreign policy." While Biden's aim is to refocus American foreign policy priorities to better protect workers and families at home, Xi's strategy could be to change his foreign policy to transmit new and ostensibly fairer economic ideas from China to the rest of the globe.
The word is not new in and of itself. It has been used by Chinese Communists since the 1950s. Nonetheless, the increasing emphasis on common prosperity in state propaganda and the official language is a major policy shift. Deng Xiaoping, the Chinese leader who pioneered free-market reforms in the late 1970s, famously defied Communist egalitarianism by acknowledging that if the country was to grow overall, certain individuals and areas of the country would have to get rich ahead of others. Despite promoting programmes to alleviate poverty and improve poorer provinces in the decades since the Chinese government has mostly let the billions fall where they may.
Xi is now returning to more socialist ideas, as he has in many aspects of his government. At a conference of top cadres in August, he began emphasising common prosperity, and it has since risen to the top of his government's economic agenda. This new approach could be a political victory for Xi. The Communist Party's antennas are always carefully tuned for potential sources of societal upheaval, and rising income disparities might be particularly dangerous. The approach permits him to act like a common man (rather than the privileged princeling he is) in order to improve his prospects of being re-elected to a third five-year term next year, which is still a sensitive subject in Chinese politics.
The concept is also economically sound. China, like many other countries, suffers from harmful income disparity. The severity of the problem is determined by how the data is sliced and diced. According to a 2019 study by economist Thomas Piketty, the share of the national income produced by the richest 10% of the Chinese population increased from 27% in 1978 to 41% in 2015, while the share earned by the bottom half fell from 27% to 15%. According to World Bank data, China's wealth disparity is not as large as in the United States, but it is still more than in many other major economies, including France, Japan, India, and the United Kingdom. Reducing China's reliance on debt-driven and frequently wasteful investment and replacing it with a healthy dose of consumer spending, which remains low relative to other nations, would help mend the economy's stuttering growth engines.
Of course, how common prosperity is implemented will determine whether or not this occurs. It's not quite obvious what common prosperity is or how it will be reached. In his essay, Xi clarified what it isn't: It's neither "neat and tidy egalitarianism," which he defined as "falling into the trap of nurturing lazy people," nor "welfarism," which he defined as "fostering lazy people." Xi also did not specify how shared prosperity will be realised, merely stating that it will be "essentially achieved" by mid-century when the income disparity is "narrowed to a reasonable range." Xi provides us with primarily vague and broad concepts about how to reduce inequities in livelihood across different groups of society and the country.
Whatever the details, China's foreign policy aligns well with common prosperity. Beijing already portrays itself as a fellow traveller with developing countries, as the underprivileged kid who made it big and now wants to give back. Xi describes his Belt and Road Initiative, which focuses on developing infrastructure, as a model of wealth distribution. "The programme has helped enhance people's lives in participating countries and created more prospects for common prosperity," Xi stated in 2019. Xi is increasingly promoting China's authoritarian capitalism as superior to the standard Western menu of free markets and open societies for developing countries. Belt and Road is only one technique Beijing is using to push its economic ideals, according to Elizabeth Economy, a senior consultant to the US Commerce Department for China. "China has grown more confident in its efforts to export its state-centred political and economic model around the world," she told a cabinet committee last year, with the goal of "ensuring that international norms and values line with and serve Chinese ideals and policy interests." This campaign could include a focus on common prosperity. In other words, shared wealth would transform China into a beacon of hope for impoverished countries, just like the United States has always aimed to be.
Common prosperity, on the other hand, can only spread abroad if it thrives at home. It's unclear when, or even if, this proposal will become an active policy. However, there are some concerning symptoms. Xi emphasised "giving full play to the key role of the public sector economy in boosting common prosperity," which could suggest that the least productive and inventive state agencies and corporations will take the lead. Xi's programme also has an anti-capitalist tinge to it. Policymakers, he said, should "resolutely reject the chaotic expansion of capital" and "fairly adjust high income," whichever that term is defined. 
As a result, if implemented with typical Communist zeal, common prosperity risks becoming a "levelling down" rather than "levelling up" process, in which the wealthy, entrepreneurial, and successful are harassed and hamstrung by an intrusive state, potentially draining the economy of its growth and innovative energies. However, if managed well—and that is a big if—China may offer innovative measures to help other countries achieve greater equality. Then there's the possibility that "common prosperity" is merely another Xi Jinping term used to boost his political profile rather than the well-being of China's impoverished. It's difficult enough to come up with new things to market to the globe; coming up with new ideas is even more difficult.
Assassination of Shinzo Abe & Salman Rushdie – Know Real Facts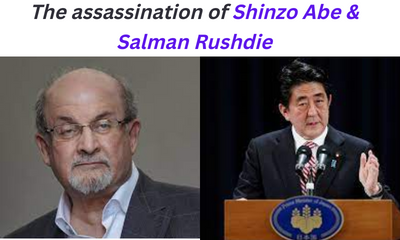 The months July and August of 2022 saw two cases of extermination to promote the fear of terrorism. One of the assassination of Shinzo Abe former Japanese Prime Minister, and another of the famous Novelist Salman Rushdie.
Shinzo Abe succumbed to a gunshot wound, whereas Rushdie's health conditions are improving and he is under medical supervision after the knife attack. However, various assassination attempt of Salman Rushdie has been made during the year.
These two terror acts force us to think about the impact of terrorism on society, the main objective of which is to create an atmosphere of fear so that citizens of the country cannot rely on their government.
This ultimately disturbs the law and order of the society, and serves the terrorists' purpose of creating a chaos.
Here we will see how these two attacks had different reasons but the objective remained the same – to stop someone from propagating his/her opinions independently, and also the factors that make attackers indulge in such acts.
Assassination Attempt of Salman Rushdie – Satanic Controversy
On 12 August 2022, Rushdie was attacked several times by a 24-year-old man Hadi Matar. The attacker's intentions can be linked to Rushdie's fourth novel, The Satanic Verses, published in 1988. Some Muslims considered the novel disrespectful towards Prophet Mohammed.
Soon after its publication, the novel sparked a 'fatwa' or a religious decree. The Iranian revolutionary leader Ayatollah Ruhollah Khomeini called for Rushdie's death in 1989. After, this various assassination attempt of Salman Rushdie has been made.
Complete conversation for Salman Rushdie Assassination:
When asked about the attack Hadi Matar said, "I don't like the person. I don't think he's a very good person. I don't like him very much". He further criticised Rushdie's work by saying, "He's someone who attacked Islam, he attacked their beliefs, the belief systems". Mr. Matar also told New York Post that he had only read 'a couple of pages' of the book and did not tell about whether the fatwa had inspired him or not.
While praising the Iranian religious leader, he stated, "I respect the Ayatollah. I think he's a great person. That's as far as I will say about that".
One can observe that the psychology of the attacker was that he simply disliked the novelist because of his work; although he read only two pages of the novel, but was rather influenced by the religious leaders and their sayings. Just, like this the assassination of Shinzo Abe has been made during this year, which we will discuss on next section.
Perceptions like these can have a long-lasting impact on future generations which can further deteriorate the situation. Violent acts like this demand proper scrutiny of the dissemination of information.
Extremists take advantage of such incidents and brainwash the young minds so that they can be used by them for their selfish purposes.
Assassination of Shinzo Abe – Complete Truth
On 8 July 2022, it was just another day of Abe's political campaign for the upcoming parliamentary elections. He was delivering a speech in Nara City, but no one is the aware about the assassination of Shinzo Abe that day. When a 41-year-old Tetsuya Yamagami shot him twice from behind from a distance of about 10 meters.
During the investigation, he confessed his intentions of killing and it was found that his motives had more to do with religious backing instead of a political reason.
It so happened that Yamagami's mother was a member of a religious group which she joined after her husband's death in 1998. She used to donate huge amounts of money as charity to the group, after the assassination of Shinzo Abe and Yamagami blames the sect for bankrupting his mother.
Confession Statement on Abe Case
The report reveal that Abe was closely associated with the sect, and wanted to take revenge against him for promoting it. "The suspect stated that he held a grudge against a particular organisation and that he committed the crime because he believed former Prime Minister Abe had a connection to it", a senior police officer in Japan's Nara region told reporters.
While the police hasn't given any clarification regarding the unidentified organization, social media in Japan has it that it could be the Unification Church.
Yamagami was unemployed, felt isolated in society, was against religious preaching and blind faith, and wanted to kill the leader of the religious organization but couldn't. One can see the psychological aspects of it that, the killer was anguished with the organisation and blamed them for his conditions and economic turmoil.
Ultimately his grudge converted into a motive of taking revenge for his loss and he did that by killing the perpetrator of the religious group, to give a message to the society and the world that one should avoid themselves from joining or contributing to such groups.
Japan has the strictest gun laws after the assassination of Shinzo Abe , so to bypass such stringent laws the killer used a handmade gun. The occurrence of such incidents in the island nation shows how much resentment the killer has and how strongly he was motivated to commit the murder.
Such incidents are eye-openers for the society that someone's freedom of belief can become others' pain, and teaches that as a society we should try to maintain a balance between them.
Two Paths to Crime
The above two accidents of assassination of Shinzo Abe, and the assassination attempt of Salman Rushdie has been terrifying for the country. First, being a part of a religious group the killer face hardship in his life, which forced him to commit the crime. In the second instance, the attacker got the impression that his religion is being targeted and that it is his responsibility to take revenge so that next time no one dares to do anything like that again.
Interpretation of things based on pre-assumed thoughts can lead to revenge, and revenge based on half-baked knowledge causes harm to the whole humanity, and not just the particular group concerned.