According to a Department of Defense contract notice filed in August 2021, the US Office of Naval Research just ordered a "compact, portable" laser weapon system. In other words, it's essentially supporting the development of a real-life ray gun. The Counter-Unmanned Air Systems High Energy Laser Weapon System (or C-UAS HELWS for short) will be used by the US Navy to shoot down drones.
Laser weapons are becoming a reality on the battlefield; in 2016, the US Navy deployed the LAWS laser on the USS Ponce. However, we've only seen huge weapons — so-called laser guns – placed on ships or other vehicles so far. Miniaturization is coming.
Drones are highly vulnerable to lasers. A focussed beam of light can quickly heat up the exterior of a drone, causing structural collapse and leading it to crash. For a fixed-wing drone, this could imply destroying one of the wings. A quadcopter-style drone might be brought down by a laser scorching a plastic or metal arm supporting one of its propellers. A laser might also ignite a drone's liquid fuel supply or blind its optical sensors, which are used to guide it to a target by a human controller.
Lasers provide a number of other advantages. Lasers do not need to be "led" to their target because they travel at the speed of light. They're also unaffected by gravity, which is important when dealing with long-range ballistic projectiles (such as bullets or cannon shells). They can't run out of ammunition, however, though the generator that drives the lasers could run out of fuel or a battery could die.
The YAL-1 Airborne Laser Testbed was one of the first laser weapons. The YAL-1 was a Boeing 747 aeroplane with a laser weapon in the nose and chemical tanks in the body that was developed in the mid-2000s. The AN/SEQ-3 laser weapon system is a more current (and considerably smaller) weapon (LaWS). LaWS is the size of a shipping container and produces 30 kilowatts of power, making it effective against drones. Today's lasers are much more compact, to the point that they can be mounted on a Stryker combat vehicle.
So how big will the new weapon be?
MZA is developing a transportable laser weapon system for defence against hostile unmanned aerial vehicles under a contract with the Navy. In everyday usage, transportable is not synonymous with portable, which is the word used in the contract and denotes that it may be carried by one person. The weapon isn't really transportable in the traditional sense. For initial emplacement and/or removal to different places, the entire system will require machinery – trucks, cranes, and so on.
So, it's not quite a laser rifle yet, but more of a laser heavy weapon like the.50 Cal M2 machinegun, which weighs 84 pounds plus 44 pounds for the tripod and another 35 pounds for each box of ammunition.
The new weapon will be smaller than the current smallest laser, Raytheon's High-Energy Laser Weapon System, which was developed in 2019. After the Air Force challenged Raytheon to design a laser small enough to carry on a JLTV, a military dune buggy, rather than prior weapons that required a big eight-wheeled vehicle, the weapon was built in just 24 months. It is made up of five major components. HELWS is made up of four subsystem boxes that are each about the size of a big suitcase and a sensor ball called the Beam Director which is about the size of a basketball.
Each of the weapon's four subsystems is critical. The laser unit generates the beam, the energy magazine is the battery, the power system converts battery power into bursts of intense energy, and the thermal management system deals with waste heat. When trying to keep a laser dot stationary on a moving drone target, the beam director points the laser towards the target, which is not easy.
Commercial Technologies helped get the HELWS to the desired size
Fibre laser amplifiers are a relatively new technology that has been paired with numerous kW-class beams from shoe-box sized amplifiers to form a single, more powerful beam used for precision cutting and welding around the world. Similarly, thanks to advancements in electric vehicles, off-the-shelf battery technology has substantially improved. Another example is the energy storage capacity they obtained from upgraded lithium-ion batteries developed for hybrid vehicles. They can store hundreds of seconds of clean, on-demand, and rechargeable HEL power in a small box because to them.
This does give you a sense of how difficult the following step will be. All five elements will need to be scaled down to the right size. The whole weapon will be impractically enormous if the laser and power system are matchbox-sized but the batteries and thermal management still require bags. Before the US Navy can actualize its vision of hand-carried laser handguns, more generational advancements at the subsystem level are required.
There's no denying that laser weapons are progressing rapidly. They've been on the horizon since the 1960s, and the US military shot down its first drone with a laser in 1973, after which there were a number of false starts (remember the Airborne Laser on a 747 that was meant to shoot down ballistic missiles in the 1990s?) They've progressed from ship installations to dune buggy transportable and smaller in the previous five years. The new weapon is slated to be finished in August 2023, according to MZA.
We still don't have laser rifles. They are, however, coming closer, much like portable railguns.
COVID-19 – A Disaster Management baggage or A National Security Concern?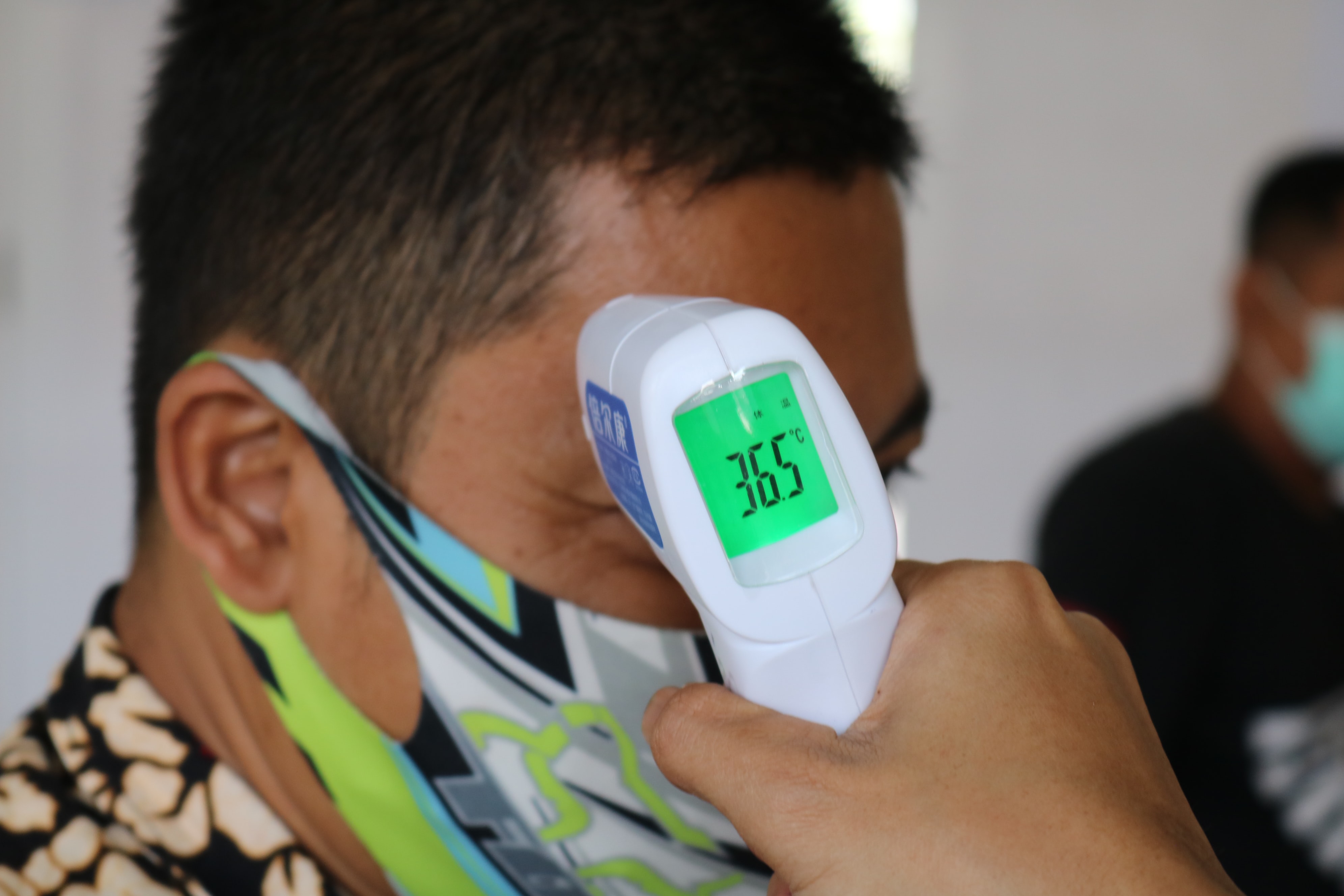 As COVID-19 cases start to intensify again after a short and peaceful interlude, the viral disease again stresses the issue that whether the disease is just a mere health emergency confided to its medical liabilities, or is it a National Security concern at large as it ostensibly affects the decisive decade i.e., 2020-2030. The Covid outbreak has conveniently presented an opportunity to reconsider the current emergency and disaster-response authorities. Not only has the disease threatened the well-being of the nation and its population but also has diverted the attention and resources of the government away from other national security threats. Hence, it is necessary for a country like India to explore and amend the old statutory framework that simply negates the healthcare challenges as national security threats. Furthermore, the geographical challenges which India anticipates with respect to China in terms of war increases manifold ever since the controversy regarding Covid-virus being synthesized in Wuhan's lab has surfaced. The controversy did not gain major traction with WHO and other global authorities brushing it away by calling it a baseless narrative. However, if at all there is a possibility of the virus being intentionally homegrown or domestically synthesized, India should put its guards up against a major biological war.
Global Perspective
It was on March 13, 2020, when President Donald Trump invoked the National Emergency Act and the Stafford Act in response to the novel coronavirus. It was the first time that a leader of a State equated a Health crisis to a National Emergency. Needless to say, the risks of Covid were exceedingly high and the casualties caused were also unparalleled. Therefore, as the well-being of the nation was threatened and the attention and resources of the government were diverted into one single crisis as opposed to other major risks, calling it a National Security concern is simply textbook-accurate. However, the current US Federal Law is rusted when it comes to dealing with high-risk virus outbreaks that have catastrophic consequences. While it acknowledges that disease outbreaks as potential threats to national security, the orientation however is statutorily limited in preparation and prevention but has absolutely no strategical way out once the disease spreads domestically. The organization of emergency response in Federal Law presently is unilateral as opposed to the disease in hand which is rather multi-lateral.
Covid-19 has not yet perished and it is highly unlikely that it is the last one of its kind. Future diseases with more serious casualties are likely to occur again as also attested by Bill Gates in one of his Ted Talks Speeches. Hence it is necessary that disaster response and national security should not be branched into two separate paradigms by the policymakers and must be conjoined into one. Acknowledging public health crisis naturally constitutes national security and is, therefore, an important conceptual step. Hence as for the US, the Federal Law must fill up the gaps that Covid-19 has thrown a spotlight on. For instance, invoking National Emergency Act was surely a brilliant move but it lacked execution. It was not exactly Congress but the law, in general, that was weak. The nature of the said statute is such that the Federal structure takes a back seat when the provision is invoked and consequently the states are left with a very large leadership vacuum which is an absolute necessity in response to such a crisis., As a result, President Donald Trump and his cabinet were widely criticized for this move as the underlying statutory framework limits the federal government's involvement in disaster response.
On the other hand, New Zealand under the able leadership of Prime Minister Jacinda Adern garnered lavish global praise for controlling the Covid-19 pandemic exceedingly well. While, thinkers and authorities like Thomas J. Bollyky, director of the Global Health program at the Council on Foreign Relations believe that the nation has an advantage of a relatively isolated location which invariably means that the country has far fewer visitors from China or other infected areas. In addition, the director also contended that the country is also small and rich with a population widely spread out, and therefore, the success of Kiwis cannot be replicated in a populous country like the US. However, the arguments appear to be mere evasive assumptions, and credit to New Zealand's administration must be given on all accounts, especially for taking immediate cognizance of the disease, unlike President Donald Trump who completely trivialized the issue when it first surfaced.
India's imminent need to take cognizance of Bio-Warfare
With a strong sense of 'We are in this together' echoing around the world, there has been a fair share of blame game amongst the countries as well. While the infamous 'virus escaped from Wuhan Institute of Virology' remains at the top of the 'it's your fault' pyramid, the US remains second. And it's China that has blamed the US Army for bringing the Virus to their country. Chinese diplomacy has simply rested its argument on the fact that the virus was engineered in the US and was deliberately sent to China to halt the country's progress. The blame game will continue to exist suiting to different political spheres of distinct nations. However, it is imperative for India to consider, collocate and confidently approach the possibility of bioterrorism.
Indian military at large is not as technologically advanced as the militaries of China and the US. Although training programs concerning chemical, biological, radiological, and nuclear attacks, the programs are on the back burner stewing in their own resourceless gravy. Furthermore, the country has a wide population with health facilities already taking a knee due to this pandemic. Thus, the possibility of a bio-warfare happening is indicative of India already sitting on a virus time-bomb. Japan has already taken cognizance of the matter and has started building its response against a bio-terror attack. For the first time, the country has imported five types of live viruses – Ebola, Marburg, Lass, Crimean-Congo, and South American viruses to study detection and precaution measures. Something, which India does not actively intend to do.
Another reason why India must not dismiss the possibility of a bio-war attack in the near future is simply the rise in the number of Bio-genetics labs in the US, China, and other states. While Iran and North Korea are believed to possess chemical weapons, countries like the US, Europe, Russia, and Australia also have around 50 functioning or under-construction security labs solely for the study of dangerous pathogens and churn out efficient results for their respective countries. In addition, virus sensors are largely ineffective and hence it becomes increasingly easy for a terrorist to simply ferry a contagion to other countries. The said virus can be mixed with powders, and aerosol sprays or can be infected through main, envelopes, or newspapers.
Chemical weapons were recently used in Afghanistan where people were seen suffering from blisters, severe anxiety, etc. Pertinent to mention, China endorsing and recognizing the recent Taliban takeover in Afghanistan and the nation experiencing biochemical attack episodes projects a highly probable image of the former vehemently supplying the latter with weapons and armory. Therefore India, on all accounts, must not be an ostrich for biochemical or genetic warfare in the coming future. While the United Nations explicitly bans the use of chemical weapons, the regulations are only bound to the member countries and thus can easily be used by an adversary. Quoting the former Chief of the Army Staff, General Bipin Rawat, a country like India must be prepared for all kinds of threat.