"Our government has failed to denounce the suppression of democracy. Our government has failed to denounce atrocities. Our government has failed to take forceful measures to protect its citizens while at the same time bending over backwards to placate the West Pak dominated government and to lessen any deservedly negative international public relations impact against them. Our government has evidenced what many will consider moral bankruptcy …"
— US Consulate (Dacca) Cable, Dissent from US Policy Toward East Pakistan, April 6, 1971, Confidential, 5 pp. Includes Signatures from the Department of State
On April 6, 1971, America's senior-most diplomat in East Pakistan, Archer Blood sent a guilt-ridden telegram to Washington giving a blow-by-blow report of the violence that unfolded right in front of his eyes. The telegram signed by twenty members of the diplomatic staff was sent through the State Department's Dissent Channel, protesting against the US Government's policies in East Pakistan.
Archer Blood, a former Navy man, arrived in Dhaka, then East Pakistan, as the US Consul-General in 1970. When the Bangladesh genocide began, his consulate regularly reported events to the White House but received no response due to America's alliance with West Pakistan, fuelled by President Nixon's personal friendship with the then-President of Pakistan, General Yahya Khan, and also due to the then National Security Advisor Henry Kissinger's desire to use Pakistan's cordial relationship with China as a pathway to resuming American Relations with China.
The genocide that began on March 25, 1971, with the launch of Operation Searchlight, was aimed at suppressing Bengali calls for independence. Also, by then the general view of the authorities of West Pakistan was that the Bengali Muslims were "too Bengali" and their application of Islam was seen as "inferior and impure". So, it wasn't difficult for the Pakistan Army, nor heavy on the conscience of their leaders to carry out the Genocide at the behest of Gen. Yahya Khan who is reported to have said, "Kill three million of them, and the rest will eat out of our hands."
When Islamabad failed to obey the mandates of their own laws and did not allow the Awami League to form the Federal Government, even after them securing a clear majority. The West Pakistan elites had no intentions of letting the control of the government shift to Bengali hands. Such discrimination led to widespread protests and violence against any non-Bengalis stranded in East Pakistan. Widespread lawlessness ensued and the Pakistan Government lost control over most parts of the province.
Using this as an excuse the Pakistan Army launched one of the bloodiest orchestrations of elimination of human life. Anthony Mascarenhas, a West Pakistani journalist wrote an article named "Genocide" in London's Sunday Times on June 13, 1971, which said, "I saw Hindus, hunted from village to village and door to door, shot off-hand after a cursory 'short-arm inspection' showed they were uncircumcised. I have heard the screams of men bludgeoned to death in the compound of the Circuit House (civil administrative headquarters) in Comilla. I have seen truckloads of other human targets and those who had the humanity to try to help them hauled off 'for disposal' under the cover of darkness and curfew." While this article turned the world's opinion against Pakistan's policies and decisively encouraged India to take action. But the US Government, in spite of being repeatedly informed by their own officials stationed in Dhaka, refused to act.   
Not wanting to spoil any future chances of opening diplomatic relations with China, and owing to Nixon's pathological dislike for Indians and his close friendship with Gen Yahya Khan, the US Government ignored the urgent and horrified tone of Blood's telegrams, which only grew in intensity.
It is not easy to garner the courage to criticise your own government when they are your best bet for any kind of safety in a foreign country. Archer Blood's strongly-worded efforts would have gone mostly unnoticed if it wasn't leaked out in public.
But the Blood Telegram leak and the subsequent inaction of the US Government compelled the Indian support to the Bengali nationalism. On December 03, 1971, India declared war on Pakistan, jumping headfirst into the conflict. While for India, it was for its defence and intelligence machinery, Bangladesh on the other hand will remember it as the war that led to their freedom.  
But it is interesting to note that in all of this, there was only one man who by denouncing Pakistani policy in East Bengal had everything to lose on a personal, as well as on a National level. However, he weighed his moral gains to be far superior to anything. When, Archer Blood died of arterial sclerosis in 2004, in Colorado, he wasn't as much mourned by Americans as by Bangladesh. The Bangladesh Government even sent a delegation to Fort Collins, Colorado for his funeral. Archer Blood, purely through the exercise of his conscience transcended national boundaries and laid down the basic moral standards of American diplomacy.
War, they say, brings nothing but destruction and sorrow in its wake. But if it means self-determination and liberation for oppressed people, then we are left with little choice.
"..we have chosen not to intervene, even morally, on the grounds that the Awami conflict, in which unfortunately the overworked term genocide is applicable, is purely an internal matter of a sovereign state. Private Americans have expressed disgust. We, as professional civil servants, express our dissent with current policy and fervently hope that our true and lasting interests here can be defined and our policies redirected in order to salvage our nation's position as a moral leader of the free world."
— US Consulate (Dacca) Cable, Dissent from US Policy Toward East Pakistan, April 6, 1971, Confidential, 5 pp. Includes Signatures from the Department of State
Assassination of Shinzo Abe & Salman Rushdie – Know Real Facts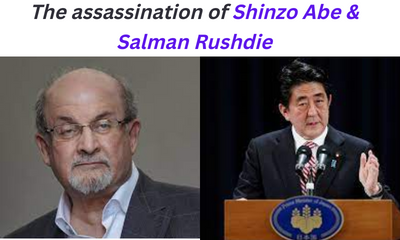 The months July and August of 2022 saw two cases of extermination to promote the fear of terrorism. One of the assassination of Shinzo Abe former Japanese Prime Minister, and another of the famous Novelist Salman Rushdie.
Shinzo Abe succumbed to a gunshot wound, whereas Rushdie's health conditions are improving and he is under medical supervision after the knife attack. However, various assassination attempt of Salman Rushdie has been made during the year.
These two terror acts force us to think about the impact of terrorism on society, the main objective of which is to create an atmosphere of fear so that citizens of the country cannot rely on their government.
This ultimately disturbs the law and order of the society, and serves the terrorists' purpose of creating a chaos.
Here we will see how these two attacks had different reasons but the objective remained the same – to stop someone from propagating his/her opinions independently, and also the factors that make attackers indulge in such acts.
Assassination Attempt of Salman Rushdie – Satanic Controversy
On 12 August 2022, Rushdie was attacked several times by a 24-year-old man Hadi Matar. The attacker's intentions can be linked to Rushdie's fourth novel, The Satanic Verses, published in 1988. Some Muslims considered the novel disrespectful towards Prophet Mohammed.
Soon after its publication, the novel sparked a 'fatwa' or a religious decree. The Iranian revolutionary leader Ayatollah Ruhollah Khomeini called for Rushdie's death in 1989. After, this various assassination attempt of Salman Rushdie has been made.
Complete conversation for Salman Rushdie Assassination:
When asked about the attack Hadi Matar said, "I don't like the person. I don't think he's a very good person. I don't like him very much". He further criticised Rushdie's work by saying, "He's someone who attacked Islam, he attacked their beliefs, the belief systems". Mr. Matar also told New York Post that he had only read 'a couple of pages' of the book and did not tell about whether the fatwa had inspired him or not.
While praising the Iranian religious leader, he stated, "I respect the Ayatollah. I think he's a great person. That's as far as I will say about that".
One can observe that the psychology of the attacker was that he simply disliked the novelist because of his work; although he read only two pages of the novel, but was rather influenced by the religious leaders and their sayings. Just, like this the assassination of Shinzo Abe has been made during this year, which we will discuss on next section.
Perceptions like these can have a long-lasting impact on future generations which can further deteriorate the situation. Violent acts like this demand proper scrutiny of the dissemination of information.
Extremists take advantage of such incidents and brainwash the young minds so that they can be used by them for their selfish purposes.
Assassination of Shinzo Abe – Complete Truth
On 8 July 2022, it was just another day of Abe's political campaign for the upcoming parliamentary elections. He was delivering a speech in Nara City, but no one is the aware about the assassination of Shinzo Abe that day. When a 41-year-old Tetsuya Yamagami shot him twice from behind from a distance of about 10 meters.
During the investigation, he confessed his intentions of killing and it was found that his motives had more to do with religious backing instead of a political reason.
It so happened that Yamagami's mother was a member of a religious group which she joined after her husband's death in 1998. She used to donate huge amounts of money as charity to the group, after the assassination of Shinzo Abe and Yamagami blames the sect for bankrupting his mother.
Confession Statement on Abe Case
The report reveal that Abe was closely associated with the sect, and wanted to take revenge against him for promoting it. "The suspect stated that he held a grudge against a particular organisation and that he committed the crime because he believed former Prime Minister Abe had a connection to it", a senior police officer in Japan's Nara region told reporters.
While the police hasn't given any clarification regarding the unidentified organization, social media in Japan has it that it could be the Unification Church.
Yamagami was unemployed, felt isolated in society, was against religious preaching and blind faith, and wanted to kill the leader of the religious organization but couldn't. One can see the psychological aspects of it that, the killer was anguished with the organisation and blamed them for his conditions and economic turmoil.
Ultimately his grudge converted into a motive of taking revenge for his loss and he did that by killing the perpetrator of the religious group, to give a message to the society and the world that one should avoid themselves from joining or contributing to such groups.
Japan has the strictest gun laws after the assassination of Shinzo Abe , so to bypass such stringent laws the killer used a handmade gun. The occurrence of such incidents in the island nation shows how much resentment the killer has and how strongly he was motivated to commit the murder.
Such incidents are eye-openers for the society that someone's freedom of belief can become others' pain, and teaches that as a society we should try to maintain a balance between them.
Two Paths to Crime
The above two accidents of assassination of Shinzo Abe, and the assassination attempt of Salman Rushdie has been terrifying for the country. First, being a part of a religious group the killer face hardship in his life, which forced him to commit the crime. In the second instance, the attacker got the impression that his religion is being targeted and that it is his responsibility to take revenge so that next time no one dares to do anything like that again.
Interpretation of things based on pre-assumed thoughts can lead to revenge, and revenge based on half-baked knowledge causes harm to the whole humanity, and not just the particular group concerned.