The COVID-19 pandemic has forced the world to switch to video conferencing, so much so that world leaders are opting for it too. India Australia bilateral relations held a virtual summit on June 4 in order to develop their bilateral ties. One of the major outcomes of this summit was the enhancement of Indo-Australia relations to the level of a Comprehensive Strategic Partnership (CSP). 
A cyber and cyber-enabled critical technology cooperation agreement on was finalised. This agreement aims at improving cyber resilience of several countries in the region through a joint fund creation. An agreement on mining and processing of critical and strategic minerals was also initiated. Keeping in mind the current scenario, the impact of the pandemic on global supply chains, the undisrupted supply of non-fuel minerals is crucial for India's manufacturing sector. This agreement can further boost India's efforts towards domestic production, especially in the automobile industry and electric car production.
According to a Press Release by The Australian Defence Ministry, As part of the India Australia bilateral relations Comprehensive Strategic Partnership announced by Australian Prime Minister Scott Morrison and Indian Prime Minister Narendra Modi, two landmark Defence Arrangements between Australia and India have been established. The Australia-India Mutual Logistics Support Arrangement and the 'Defence Science' and 'Technology Implementing Arrangement' enhance and deepen the Indo-Australia defense cooperation. Minister for Defence, Senator the Hon Linda Reynolds CSC said that India is a significant security partner for Australia. He added, "We have a strong shared interest in working together to support a stable and prosperous Indo-Pacific." 
The Mutual Logistics Support Arrangement is signed to strengthen military interoperability, which in turn will enable increasingly complex military engagement and greater combined responsiveness to regional humanitarian disasters. It will further make way for carrying out cross-military exercises.
The Science and Technology Implementing Arrangement will facilitate improved collaboration between our defence science and technology research organisations, both of whom have made important contributions in response to the COVID-19 pandemic.
"We now have a solid framework for Indian and Australian defence organisations to enhance our research collaboration and develop defence capabilities that help maintain our technological edge in this era of rapid change and increasing threats," Minister Reynolds added. He went on to say, "These arrangements reflect India and Australia's strong commitment to practical global cooperation. We look forward to being able to recommence engagement in person as soon as circumstances permit."
In 2015, The inaugural bilateral maritime exercise between India Australia bilateral relations, AUSINDEX15, took place, with an opening ceremony held in Visakhapatnam, India.
AUSINDEX 2019, featured anti-submarine warfare alongside coordinated aerial patrols over the Bay of Bengal.
According to an analysis by The Diplomat, Building on the personal relationship of Prime Minister Modi and Prime Minister Abbott, the Minister for Defence, the Honourable Kevin Andrews MP, recently visited India to further develop, with his counterpart Minister Manohar Parrikar, the Framework for Security Cooperation. Head Navy Capability, Rear Admiral Jonathan Mead, AM, RAN, joined India's Flag Officer Commanding Eastern Fleet, Rear Admiral Ajendra Bahadur Singh,VSM, to mark the occasion.
"India is a key security partner in the Indian Ocean and Asia-Pacific," RADM Mead said. "Both our navies have a mutual interest in promoting peace and prosperity in the Indian Ocean and this is a natural progression of our Navy-to-Navy relationship, given our shared maritime security interests," he added. The Royal Australian Navy values the deepening engagement with the Indian Navy. He concluded by saying, "This will strengthen our relationship and further our ability to undertake regional joint and/or combined operations such as humanitarian assistance and disaster relief," he said.
Earlier in July, Australia announced its latest Defence Strategic Update and Force Structure Plan. The Director of research for Diplomat Risk Intelligence, Ankit Panda decoded the two newly released Australian documents. "Defense Strategic Update" for 2020 offers insight into how recent developments have changed Australia's defence requirements. Alongside this update, the Australian Department of Defense released a Force Structure Plan. In this sense, the Australian Defense Strategic Update could not be released at a more apt time — when Beijing is mired in ongoing standoffs with its neighbours in the Himalayas, the South China Sea, and the East China Sea. These factors existed in 2016 when the white paper was written, but the new update highlights unnamed countries pursuing interests "through a combination of coercive activities."
In June, the Australian government dealt with a massive cyberattack targeting all levels of the administration, industry, education, essential services, critical infrastructure, and political organisations. Though no direct mentions were made, China is suspected to be responsible for this cyber attack. Prime Minister Scott Morrison said a malicious and sophisticated "state-based cyber actor" was behind the attack, adding that "there are not a large number of state-based actors that can engage in this type of activity".
Peter Jennings, executive director of the Australian Strategic Policy Institute, told CNN there was a "95% chance that it is China who is responsible for this attack." Recently, China imposed heavy tariffs on Australian exports like barley and beef.
Australia has voiced out its opinion about an international investigation into the origins of the Covid-19 pandemic. Australia has shown its support towards India in recent times, as it backed India's calls for reforms of the World Health Organization for its initial handling of the crisis. India and Australia have also spoken about working together to shape the post-COVID world order.
The curious relation between Art and Communism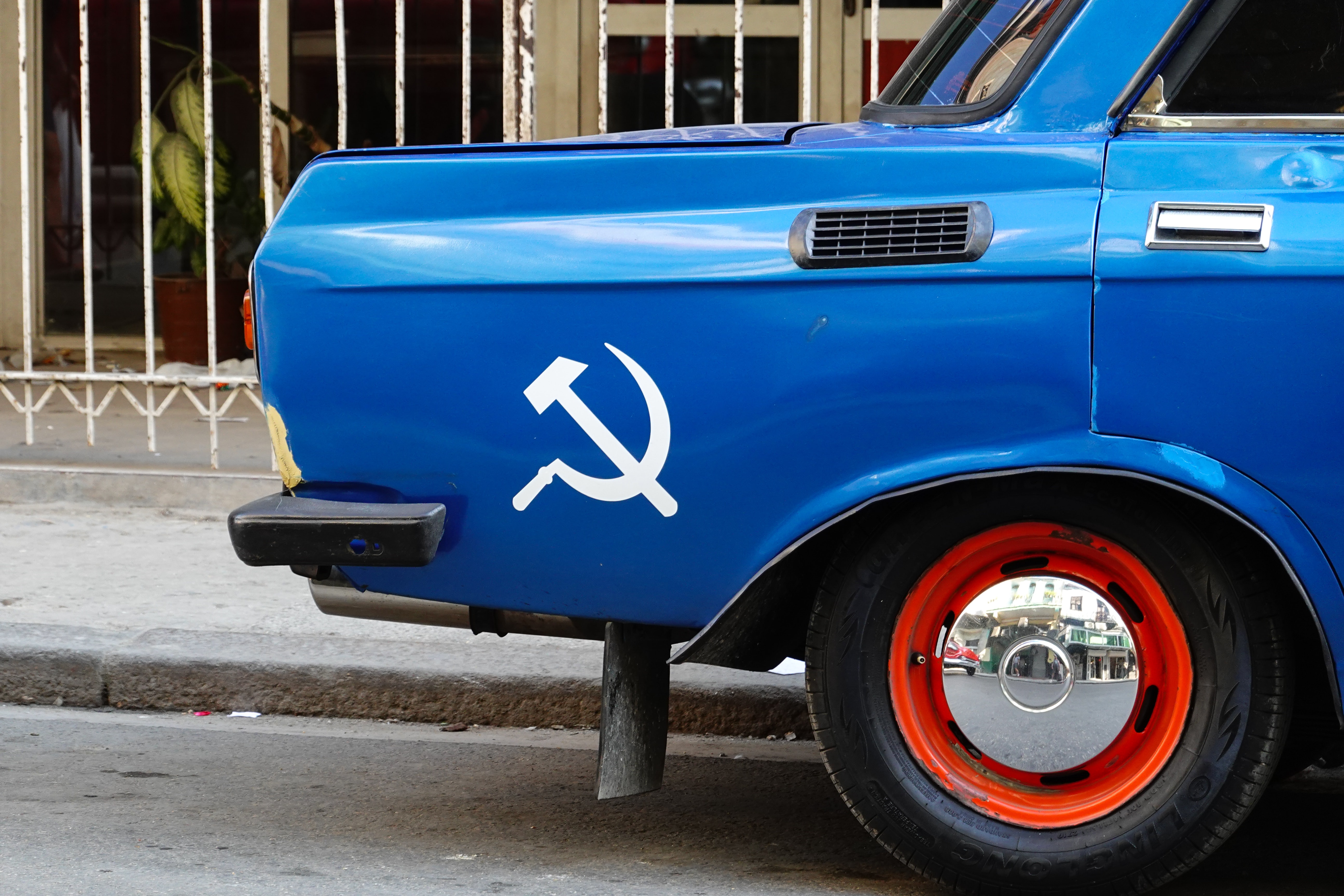 The philosophy of 'art for art's sake' is a relatively newer concept, introduced and later developed during the early 19th century. However, historically art was meant to drive a purpose or further an agenda, or just simply project a pre-conceived social notion or message to the viewers. Artists mostly relied on patrons and the art that was put out was often commissioned for a specific aim and objective. The 'historical museums and art displays where today's public can see and understand art are only a recent development. In the past, art remained an aristocratic gig and it was only at a public location, usually religious or political function where the masses could also enjoy 'high art'. Hence, shaping art to serve a political narrative is not a novel idea. The Communists however took this idea of serving art to another level by exerting more influence and control and keeping a more intrusive approach. However, it is imperative to establish that if it weren't for the communists and their active participation in the field of art, the world may not have had such a modernized concept of mass production of images and words as it proudly reflects today. The number of Communist-centric art and artifacts flourished post the regimes of Russia under Stalin (1922-1953) and China under Mao (1949-1956). Though there have been many pieces of literature on art and culture during the mentioned timeline, the comparison between the two regimes presents a very striking image of "Communist Art".
Rise of Communism
The foundations of socialism were already laid during the French Revolution although the Communist Manifesto by Marx and Engels was written much later in 1848. The Marx version of Communism is the solution to history's riddle and is the "positive transcendence of private property…it is the genuine resolution of the conflict between man and nature and between man and man –the true resolution of the strife between existence and essence, between objectification and self-confirmation, between freedom and necessity, between the individual and the species." While Marx and Engels rambled upon the fundamentals and their individual interpretations of Communism, none of them produced an official or informal theory on aesthetics, art, and literature being aligned to a particular ideology. No comments regarding art and its social implications were made in reference to the artist or the audience.
The ideas of Marx were adopted by Lenin and later passed on to Stalin and Mao. However, like any idea, theory, principle or even religion distorts in the realm of changing society and civilization, the named leader's implementation of Communism was contrastingly different from what Marx preached. Hence the ideology did not exactly translate into its natural form on the ground. The practice of the ideology never matched its theory as its implementation was entirely dependent on a multitude of human actions and decisions. So, when an ideology is handicapped and is presented without its physical manifestation, it inevitably falls in the hands of idiosyncratic personalities of the leaders who shaped Marxist Communism into mutated versions: Stalinism and Maoism.
Communism is a very seducing and enticing concept. So, when Joseph Stalin and Mao Zedong, in Russia and China respectively picked it and molded it into a tool to simply overthrow the traditional and imperialist regimes, the concept became even more exciting. Communism, therefore, emerged victorious post the fall of Imperial Regimes by the devastating wars, the people welcomed them and the ideas of 'communism' were appreciated. However, the ideas that people embraced were in fact masking the true nature of these communist dealers as it ultimately took an authoritarian outlook in no time. So while people anticipated a change in the basic system of governance from that of Imperial Regimes, they unwittingly fell into another authoritarian regime and have been under its control for decades.
It is shocking to see that while both the countries, Russia and China are presently the flag bearer of Communism, the concept is foreign to both. The concept emerged from Western Europe and was a tertiary concept or an alien ideology to both. The concept, therefore, was bound to have been amended, molded, and altered to suit the needs of Russian and Chinese regimes. The original idea only served the cause of blinding people by offering a lucrative concept so that it can later be shaped into a profitable deal for dictators like Mao and Stalin and fetch them unfettered powers. Therefore, much like any paradigm shift in the world, Communism also rose through invariable back-stabbing, misrepresentation and misappropriation of a great deal of information and news against the public.
Stalinism, Maoism and Art
It is important to see the diversity of art and artistic practices before the said named leaders came into being. The type of art that was not most associated with Communism, did not just completely align itself to the political narrative. It was a gradual process of shaping and controlling the artists and in extension, the art. However, even before the advent of Communism, the art worlds especially in China and Russia were anything but unanimous.
The beginning of the 20th century in Russia saw a bright sunrise to modern and Avant-grade art. Artists like Malevich and Kandinsky confidently rose and approached the Dias. They proposed radical new ideas concerning the aesthetics and the purpose of art. While some artists followed those ideas, some aspired to push forth the envelope even further. But, all of them shared a common view of rejecting realism. The artists unanimously saw the idea of communist ideas as the shaper of the Russian society and were equally excited to chip in their two cents through their literary and artistic work. The artists were so hyped that they even joined state-run organizations as they 'believed; that they must serve the regime as it facilitated artistic freedom. The then Minister of Culture, Anatolii Lunacharskii provided the required resources for the development of new museums and established art studios and schools. The regime was so hugely invested in the art and its effect on the society that academies that rejected the idea of Avant-grade art were shut down. While this appeared to be an uphill for the art and artists, no one noticed that the whole cultural system, including museums, schools, publications, and even public decoration were brought under the government control whilst everyone stood in awe of the glittering gold.
However, the aesthetics of government-sponsored lucrative deals could not overpower the authentic concerns and creative differences which were bound to bud up between the artists. Consequently, the privileged place of Avant-grade art began to lose its ground. It is however true that numerous wonderful and great artistic stances flourished concurrently during this short period, some of them even shaping to become mass movements drawn on traditional aesthetics. As modern grade art began to wane, the group of artists proposed the idea of Productionism to replace Constructivism. They opined that autonomous artists are reactionary and cannot be caged within the political sphere. Therefore, these arts should not be given a free canvas and must become the colleagues of scholars, engineers, and administrators as it would restrict to the social reality controlled by concrete political forces i.e., the Communist Party. The artists however remained adamant in aiming to project the 'What can be' rather than projecting the 'How affected they are' as they believed that the latter connotation was the one which would catapult them and their artifacts into fame and positive audience response. This idea was in strict contravention to Stalin's idea of art and aesthetic and therefore the Avant-grade movements were brought to a screeching halt.
Art in China also went through a similar trend. It also covered a similar journey from the muddle of styles and ideas, a large part of them being radical, to the art of prescribed aesthetics and purpose. Unlike Russia, China was influenced by Western art, both modern and traditional, in the 20th century. China switched to oil paint, leaving the traditional elite of art done mostly in ink. Numerous artists went to Europe and Japan and were exposed to new art practices such as painting still life and figure nudes. Artists were influenced by traditional European Art like that of the Renaissance and were equally perplexed by modern painters like Matisse or Picasso. As a result, many Chinese artists wanted to incorporate and integrate European practices into Chinese art, while some wanted to reform the whole Chinese-artistic discipline form within. This practice of incorporating and adapting newer paradigms with reference to art and literature continued into the 1930s as Chinese art transformed, reformed, pushed forward, and then explored itself in its whole entirety.
However, the same period saw a rise in a certain Modern Woodcut Movement led by Lu Xun. Hugely influenced by the Soviet Prophecy of Avant-grade art that leads to the destruction of the old, he inclined towards the realist school as well. Although he believed that art should not only be limited to a revolutionary message, he encouraged the idea of combining art with politics. In pursuance of combining art and politics together, he spread ideas in China by translating numerous Russian texts stressing realism art and the concept of Productionism. This eventually saw a rise of numerous woodcut groups creating rebellious art and organizing exhibitions exhibiting the same. Soon, the Sino-Chinese War happened and the relations with the outside world were significantly cut down, invariably giving rise to the realist school of art in China, running parallel with Russia.