We've come a long way from using networks for telephony services like calls and messages in 2G to experiencing internet speed in 3G, deploying private office networks in 4G, and now creating smart environments with automation and robots in 5G. Each generation of communication technology brings major improvements to the network, improving on the preceding generation's use-cases while also bringing new ones. While 5G is still in its infancy, 6G will be built upon it. It is expected to accelerate the adoption of 5G use cases at scale, owing to cost-cutting and optimizations, particularly at the enterprise level. At the same time, it will open up new possibilities. Furthermore, 6G will connect the human, physical, and virtual worlds.
Take, for example, the term "metaverse." It's one of the 5G use cases that's set to shake up both the traditional and digital worlds. The 'Metaverse' would not only evolve into a final model with 6G, but it would also likely merge with the physical world via artificial intelligence and machine learning. This is because, according to Nokia Bell Labs, the most striking feature of 6G will be its ability to sense the environment, people, and things. The network will become more cognitive as its sensing capabilities are integrated with artificial intelligence and machine learning.
The successor to 5G cellular technology is the sixth-generation wireless communications system. 6G networks are expected to be able to utilise higher frequencies than 5G networks, allowing for faster data rates and a significantly larger overall capacity. It is almost certain that far lower latency levels will be required. Overall, 6G mobile technology is planned to provide communications with a one-microsecond or perhaps sub-microsecond latency, making communication almost instantaneous.
Timescales for 6G
5G began to roll out in 2019, and it is expected to be the primary mobile communications technology until at least 2030. Initial 6G installations could begin in the 2030s to 2035s, albeit this is only a guess. However, these timelines for 6G are similar to those for prior generations: 1G was available in the 1980s, 2G in the 1990s, 3G began deployment in 2003, 4G initial deployments began in 2008 and 2009, and 5G in 2019. Initial ideas must start coming together now in order for 6G technology to be available on time.
6G technology developments
A number of 6G technology research initiatives are already underway, examining what is achievable as well as what is required. The exact format for 6G will be determined by how 5G evolves and where its flaws manifest. There have been many various use cases proposed so far, and only time will tell what the uptake is and how 5G will be employed. It's projected to be utilised more for the Internet of Things, or IoT, as well as autonomous car inter-vehicle communications. It remains to be seen how all of this will play out. If there are any shortcomings with 5G, these can be addressed in the 6G ideas. Furthermore, TeraHerz communications are projected to be a crucial component of 6G. Huge bandwidths will be attainable using these extremely high frequencies, despite the fact that the technology to do so is not yet available.
6G development projects
There are already a number of 6G technology projects that are underway at the moment, and some organisations are now starting early development.
South Korea Electronics and Telecommunications Research Institute:

  South Korea, as one might imagine, is significantly ahead of the curve, and this institute is working on Terahertz band technology for 6G. 6G is expected to be 100 times faster than 4G LTE and five times quicker than 5G networks.

The Ministry of Industry and Information Technology, MIIT, China:

China is keen to take a lead in 6G, having invested heavily in technology. As a result, MIIT is investing directly in and overseeing the research and development process.

The University of Oulu, Finland:

  This university has launched 6Genesis, a 6G research effort. The research will last at least eight years and will produce ideas that will be compatible with 6G technology by 2040.

USA initiatives:

  The United States plans to offer up a 6G frequency spectrum for early research and development at frequencies between 95 GHz and 3 THz, though this will require approval from the Federal Communications Commission (FCC) for frequencies over 95 gigahertz GHz to 3 THz.
Technologies for 6G
6G mobile communications technology will build on that already established for 5G. Some of the existing new technologies will be further developed for 6G
Millimetre-Wave technologies:

  Using frequencies that are considerably higher in the frequency spectrum allows for more spectrum to be used while also allowing for a much wider channel bandwidth. Millimetre-wave technology will be further improved, possibly stretching into the TeraHertz region of the spectrum, as large data speeds and bandwidths are necessary for 6G.

Massive MIMO:

  Although MIMO is employed in a variety of applications ranging from LTE to Wi-Fi, the number of antennas is limited -. Because of the antenna sizes and spacings in terms of wavelength, putting tens of antennas on a single piece of equipment becomes a genuine option when using microwave frequencies.

Dense networks

  Reducing the size of cells allows for a considerably more efficient overall usage of the spectrum. Techniques are needed to ensure that small cells deployed as femtocells in a macro network can function properly.
Many new technologies will also be introduced. Some candidates that are being talked about could include the following.
Future PHY / MAC:

  The new physical layer and MAC presents many new interesting possibilities in a number of areas.
Waveforms:

  The novel waveforms that could be employed for wireless communications are one significant area of interest. OFDM has seen widespread use in 4G and 5G mobile communications, as well as a variety of other high-data-rate wireless communication systems, but it does have significant limits in certain situations. GFDM (Generalized Frequency Division Multiplexing), FBMC (Filter Bank Multi-Carrier), and UFMC (Universal Filtered MultiCarrier) are examples of other waveforms. Each has its own set of benefits and drawbacks, and it's feasible that adaptive methods will be used to use multiple waveforms for 6G mobile communications systems depending on the requirements. This gives 6G mobile communications a great deal more versatility.

Multiple Access Schemes:

  Again a variety of new access schemes are being investigated for 6G technology

Modulation:

  While PSK and QAM have excelled in terms of spectral efficiency, durability, and capacity, the high peak to average power ratio is a key disadvantage. In some cases, modulation methods such as APSK may be advantageous. Because APSK has a lower peak to average power ratio or PAPR, it is more suited to mobile communications systems, as the final amplifier can function more effectively with a lower PAPR.
Duplex methods:

  For the future 6G wireless communications technology, there are numerous possible forms of the duplex that could be used. Systems employ either frequency division duplex (FDD) or time division duplex (TDD) at the moment. Flexible duplex, in which the time or frequencies provided are varied depending on the load in either direction or a novel system known as division free duplex or single-channel full-duplex are among the potential possibilities for 6G. This 6G method would allow transmission and reception on the same channel at the same time.
No Guarantees, No Deal
Working with future technologies, such as driverless automobiles or drones, could be difficult without a clear understanding of what the network can supply and when. Strict service-level agreements are urgently needed (SLAs). Guaranteed SLAs are required in the world we are entering. To be able to have an autonomous car that does not require a driver, you must have a guarantee of ultra-low latency and responsibility. The majority of today's networks are based on best efforts rather than guarantees or SLAs. And it's on that promise that we'll be able to go to 6G.
Machine learning and AI
The amount of data produced by nearly nine billion people using more than 500 billion linked equipment will be enormous. As a result, experts agree that machine learning and artificial intelligence will be critical in the 6G era. Experiments in a variety of disciplines are already underway, and it's becoming clearer how AI and machine learning may aid in the building of 6G, though it's still early days. All of this generates data by monitoring how users use the network at various times, locations, and intensities. Rather than flying blind, network operators are eager to include AI to help them optimise their networks.
Opening and disaggregating
Bringing cloud processing closer to the edge, or to the end-user, is one of the most important components of future networks. Instead of having to travel a great distance before being processed, the data would be processed locally, reducing latency. This disaggregation strategy, which was implemented in 5G, will be crucial in 6G and will lead us to a significant milestone. This will have a huge impact on how technology advances and changes over time; it will happen at a much faster rate. This will have a significant impact on the evolution of 6G.
Conflict, COVID and Climate Crisis: Major Risks of our Time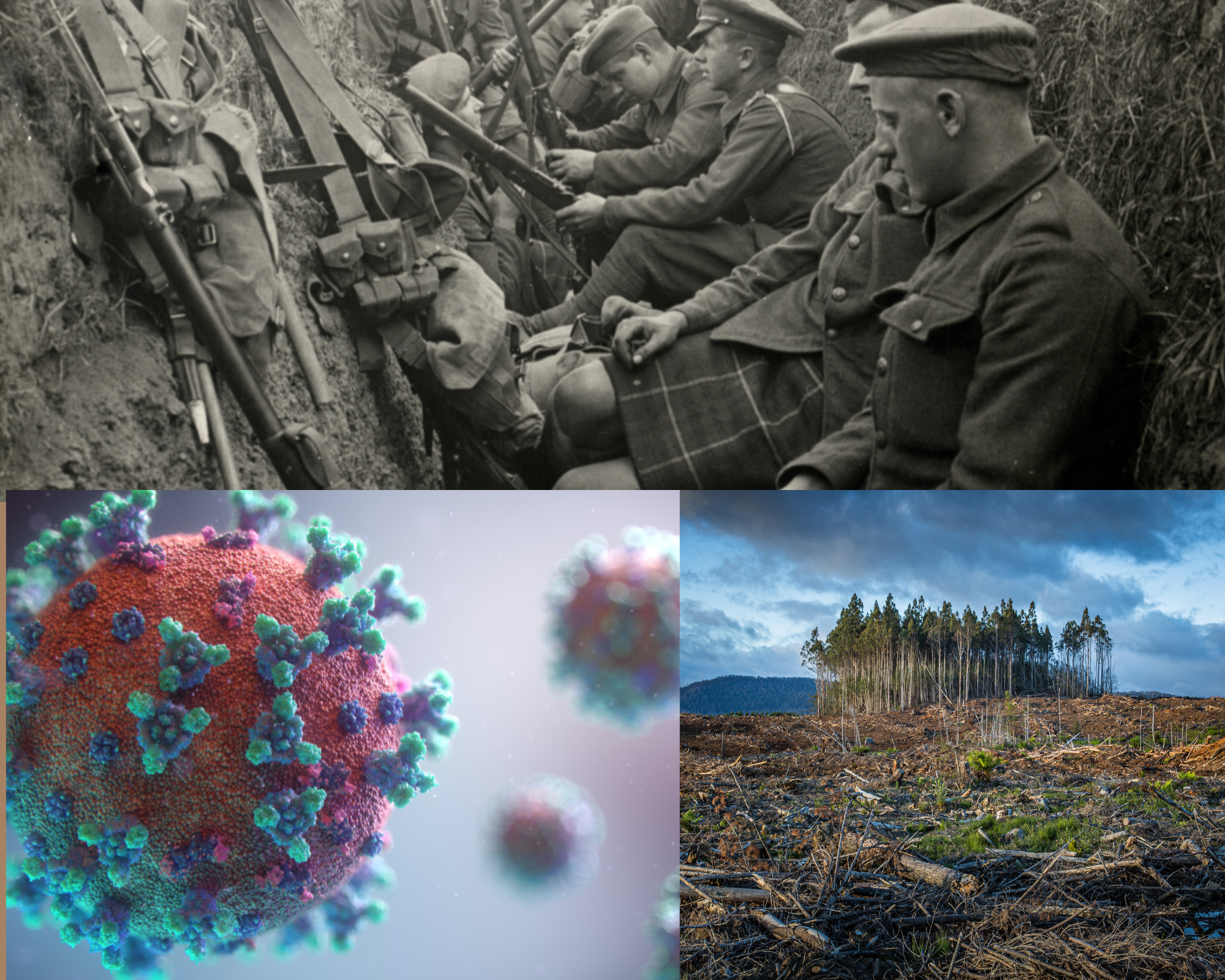 Conflict, COVID and Climate Crisis: Major Risks of our Time
'If anything kills over 10 million people in the next few decades, it's most likely to be a highly infectious virus rather than a war. Not missiles but microbes……' words spoken by Bill Gates in 2015 at Ted Talks proved true, especially in the wake of the COVID pandemic that brought the world to a stand-still. Killing millions of people within two years with tons of collateral damage in areas of health, economy, national security, etc. has shaken the world to its core. But is it just the microbes over missiles that are going to cause mayhem, or a combined effort of both, catalyzed with cyber-catastrophe? The current Russia-Ukraine conflict, Taliban take-over in Afghanistan, the Worst Emergency crisis in Sri Lanka, and the never-ending Israel-Palestine war – these all point towards intensified armed-conflict chaos around the world. On the other hand, the worsening climate crisis is further aching the world manifold. The Australian Wildfires in 2020, East Africa droughts in 2011, 2017 and 2019, regular cloud bursts, and the melting of icebergs in Antarctica are a few of many natural disasters that beg for climate action. But the newest addition to the list of challenges for survival is cyber-warfare. During COVID lockdown, even large-scale businesses and industries moved online for their survival. This transition was never expected to be as sudden as it did during these troubled times. As a result, the move was made out of fear and fright rather than undergoing due diligence which is the general practice when shoring a business from stores to wires. Hence, the threats of cyber-attacks and other associated risks have further escalated. The increased threats required improved IT security thereby leading to a substantial number of corporate entities signing up for consultancies that offer digital dependency in business processes. This even led to a sharp increase of $20 Billion in the cyber-insurance sector between 2020-2025, which is almost triple to what it was. The market is anticipated to grow even more strongly with the additional momentum gained from digitalization. Munich Re, an insurance company that provides coverage for cyber risks has experienced meteoric growth in this sector gaining a share of 10% of the total market, making it one of the world's leading insurers.
 Multi-Dimensional Crisis
The Doomsday clock is stuck at 100 seconds to midnight. The world seems to be inching towards a civilization-ending apocalypse. Rising conflict, worsening climate change, and never-ending microbe attacks have the world hanging by a very thin thread of hope, perseverance, of resilience. While a larger section of the world wants to live in a world free of war, the power concentration sadly is inversely proportional to the mammoth population. Even a minimalistic endeavor of having a healthy family, working just enough to put food on the table and have access to quality education for children, seems bleak. But is it really the end or is it just a prolonged halt looking forward to an update?
The World Economic Forum has stressed ongoing and upcoming challenges created by cyber fraudsters, climate change, and space technology. As per the Global Risks Report, 2022 released on January 11, cyber security and space technology were listed as the most emerging risk sectors for the global economy followed by the existing pandemic. Cyberthreats are in no way a particular-sector-centric threat. It has the potential to affect entire civilizations as we live in a time where there is absolutely no connection-deficit. Everyone is connected with everything and vice-versa. And hence, cyber threats are growing faster than society's ability to effectively prevent and manage them. The rise of cryptocurrencies has given birth to a new breed of online dacoits, resulting in an increased number of malware and ransomware attacks.
What can be done?
It is a race. A race between what trumps what. Ever since the lockdown around the world has been lifted, inter-state wars and conflicts have dominated the attention of decision-makers. Needless to say, the pandemic is by no means over. Similarly, the climate-associated risks are piling up and it remains the largest and most complex existential challenge of our time that warrants unparalleled action. Evidently, vaccination is on roll and has proved to be effective against the invisible enemy, and hence one needs to understand the gravity of 7 million deaths where air pollution has been a major contributor. A heating world, in general, is detrimental to human health and thus, significant obstruction to a thriving society. While a total of 110 countries are now monitoring the quality of air their population breathes, it's simply not enough. The deterrent theory of removing factories and industries and adapting the primitive way of living is also impossible, especially in the urbanized world. Hence preserving nature and also concentrating on all-around economic development seems oxymoronic and ironical.
But, technological advancements during the wake of COVID have hinted that if ideas are shared and transcended beyond boundaries, there is hope. A simple instance of Tesla championing the sector of electric automobiles has prompted even a developing country like India to work in the furtherance of completely replacing fossil fuels with an alternative transformative source thereby resulting in an increase in electric vehicle production. A hybrid power strategy is inadvertently the need of the hour today. But how much does a country like India which promises a good mix of bright sun and wind along its coasts, requires resources to make the shift to Net Zero. Setting up hybrid power plants is also cost efficient as the plants share common equipment, electronics, and storage, as a dedicated hybrid plant can work round-the-clock with only sporadic recourse to storage.
The aforementioned mechanism is just one facet of a multi-dimensional resolution that the world warrants. The national leaders of countries can no longer lament and find nonchalant advisory bodies to pin their blames act. Furthermore, the citizens are also to be self-monitored. Citizens cannot resort to unveiling a red carpet for a government that completely negates the existence of climate change and cyber security. Rather, the citizens are to hold the constitutional entities accountable, answerable, and liable for negligence and poor performance.
Conclusion
Peace underpins all that is good in our society. But with each passing day, a realization of sorts that 'peace' is in short supply, resurfaces itself. The horrors of Covid have shown the world, that no matter how technologically advanced, monetarily rich, and systematically sustainable it looks, it is as vulnerable as one can be. The only upside that one can perceive from the horrifying pandemic, is that the loss of millions of lives and trillion dollars have only waken up the world from its deep slumber. Digitalization and globalization may have brought the world close, but the shrunk world is failing to realize that, with great inter-connectedness comes great interdependencies. And thus, the multi-dimensional crisis is not an individual but collective responsibility.