Ganesh Chaturthi will be celebrated tomorrow. This year, due to the COVID-19 pandemic, there are strict social distancing norms in place. Various government authorities have released state-specific guidelines in order to contain the spread of Coronavirus during the festivities. Now. In order to abide by the guidelines and also enjoy the festival, here's a feature on 6 COVID+eco friendly ways in which you can celebrate Ganesh Chaturthi this year.
1. Spare the rivers please!
The DDMA said that during Ganesh Chaturthi, no idol of Lord Ganesha will be set up in public places. A fine of ₹ 50,000 will be imposed on violators Idol immersion in the Yamuna river banned. In its recently issued guidelines, the Delhi government barred large congregations, processions, community celebrations, or installation of idols at public places on Ganesh Chaturthi in the national capital this year.
2. Bio-degradable idol
There are so many ways in which you can use idols made of bio-degradable material. You can use idols made of mud, organic clay, Multani mitti, chocolate etc. Yes, you read that right! There are various idols available in the market, but this year owing to the social distancing norms in place, the government has urged people to purchase Ganesh idols online. There is a beautiful variety of idols available online. Idols which have seeds in them can be immersed in a plant pot and then watered every day. The seeds will bloom in a few days! This is such an amazing amalgamation of religious festivities and environmental friendly practices. Please choose idols with no hazardous decorations like paint, stones, metal, soil POP, plastic etc.
Idols with plant-friendly soil and seeds are also available online. "Instead of using idols made of clay, if possible, worship metal or marble idols," the circular read. It asked people to carry out immersion of eco-friendly idols at home. If that is not possible, then idols should be immersed in artificial lakes, the BMC said.
You can explore some bio-degradable options at Tree Ganesha
3. Hygienic and healthy DIY modak
The COVID-19 pandemic has made us paranoid about purchasing food from outside. You can't sanitise your food with alcohol unless you want to ruin it. A quick, healthy and hygienic Modak recipe that a very efficient home-maker swears by is Sugarfree Dates, Fig and Almond Modak. It is really simple to make it:
Crush a few almonds and roast them on low flame for 10 mins. Set them aside.
Take Figs and Dates in equal measure and grind them until there are no lumps.
The Fig+Date mixture should be of dough-like consistency
Mix the roasted almonds and dough-like mixture and form a ball.
Now, divide the dough into smaller portions and shape them like a Modak.
Enjoy your guilt-free healthy DIY modak
If you still want to make the traditional pearly white Modaks, you can see this Youtube recipe
4. Make your own Ganesha idol
A woman in Indore has made Lord Ganesha idol using chocolate, with the idea to immerse it in milk. The Indore resident, Nidhi Sharma through these idols, also paid tribute to COVID-19 warriors, mainly doctors and police. "I have made Ganesha idols using chocolate. We believe that we will get rid of coronavirus with the blessings of Lord Ganesha. Based on this theme, we have placed idols of police and doctors. We have also made a ball using chocolate symbolizing coronavirus. We have showcased Lord Ganesha killing the ball using trident," Sharma told ANI.
Various Youtubers and celebrities have shared there experience and skill on how to make your own DIY Ganesha idol/murti.
5. Social distance and family time
The lockdown has made us realise the true importance of spending quality time with our families. Ganesh Chaturthi marks the beginning of the festival season in India. Spend time with your family, help the needy, inculcate good habits and practices. Learn about Ganesh Chaturthi and tales of Lord Ganesha from your elders. Try new recipes, clean your surroundings and be safe.
6.Actually worship and pray
The world is going through a particularly difficult time right now. Paranoia, unemployment, disease, death, fear, and negativity surround us, but we shall still keep the ray of positivity thriving. We all know how 2020 has been. If you are hosting Lord Ganesha at your home, be a pleasant and humble host. You obviously have a strong faith and belief towards Lord Ganesha, therefore pray for the world to heal, ask him to forgive our sins, and pray for cruelty and evil to diminish. This year has given all of us valuable time for reflection and self-realisation therefore it is appropriate for us to seek the right path and embrace optimism. Of course, that being said, you should not try and impose your religious beliefs on anybody else, but yourself.
by Kunjan Ahluwalia
President Joe Biden's Conversation with the Cambodian Prime Minister Hun Sen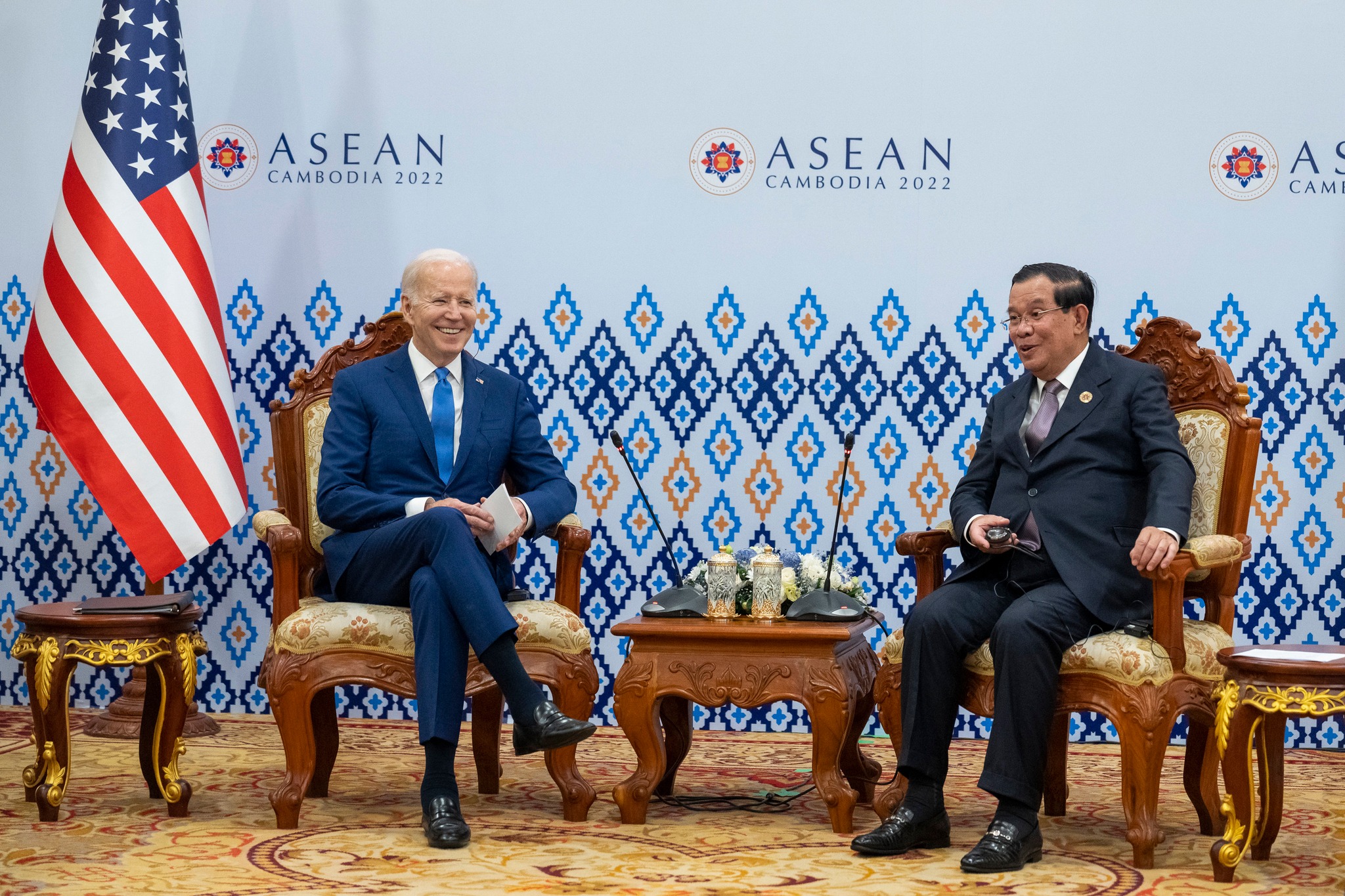 President Joe Biden landed in Cambodia on Saturday and supported the ASEAN nations. Before the eagerly anticipated Group of 20 summits next week in Indonesia, where Biden will meet with Xi for the first time in person since he took office, there will be a weekend of meetings in Cambodia. Before meeting with Xi, the president can engage with US allies at the ASEAN summits and the East Asia Summit on Sunday, both in Phnom Penh.
The US-ASEAN Comprehensive Strategic Partnership, which, according to Biden, "will tackle the biggest issues of our time, from climate to health security, defend against the significant threats to rule-based order and threats to the rule of law, and build an Indo-Pacific that's free and open, stable and prosperous, resilient and secure," was announced as "another critical step" toward building on the group's progress during his remarks at the summit. He cited a budget proposal for $850 million in support for Southeast Asia while praising the US's current financial commitments to ASEAN.
"This is my third journey and third summit, my second in person." The value reflects the United States' commitment to our relationship with ASEAN and our dedication to the region's centrality. The core of the Indo-Pacific strategy of my administration is ASEAN. In his opening remarks to the meeting, Biden said, "And we continue to reinforce our resolve to work in lockstep with an empowered, united ASEAN."
To build on the ASEAN leaders' conference in Washington earlier this year, the president's first meeting in Cambodia was with Prime Minister Hun Sen of Cambodia.
From the beginning of his presidency, Biden "was intent on elevating our engagement in the Indo-Pacific," according to national security adviser Jake Sullivan, and his attendance at the ASEAN and East Asia summits this weekend will highlight his accomplishments to date, including the Indo-Pacific Economic Framework unveiled earlier this year and security partnership initiatives.
"He's coming into this series of summits with that track record of success and purpose behind him, and he wants to be able to use the next 36 hours to build on that foundation to move American engagement forward, as well as to deliver several actual, practical initiatives," Sullivan said.
New initiatives on maritime cooperation, internet connectivity, and economic investment are some of these valuable measures, according to Sullivan. He added that Biden will soon begin a new maritime initiative that will "focus on using radio frequencies from commercial satellites to be able to track dark shipping, illegal and unregulated fishing, and also to improve the capacity of the countries of the region to respond to disasters and humanitarian crises."
Further, he added, Biden will also emphasize a "forward-deployed posture" toward regional defense to demonstrate that the US is actively pursuing security cooperation.
Biden also mentioned a brand-new US-ASEAN electric car infrastructure program during his speech.
He described the project as "a collaborative effort to build an integrated electric car ecosystem in Southeast Asia, enabling the region to achieve sustainable energy, economic growth, and ambitious emissions reduction targets."
Discussions on coordination "to continue to impose costs and build pressure on the junta" will also be centered on Myanmar, which was the subject of a February 2021 coup that ousted the country's democratically elected government.
Key Highlights
Concerns raised by Biden regarding Chinese activity at the Cambodian Ream Naval Base. The president expressed concern over the circumstances at Ream Naval Base and emphasized the value of complete transparency regarding the PRC (China's) military activities there.
The US President congratulated Cambodia's Prime Minister for backing Ukraine at the UN and spoke about the turmoil in military-ruled Myanmar.
President Biden also conveyed his gratitude to Cambodia for supporting resolutions at the UN to defend Ukraine from the brutal assault of Russia.
He thanked Cambodia for holding the ASEAN helm through a trying year.
The leaders "reflection on the historic US-ASEAN Special Summit's success in Washington, DC and applauded plans to establish a US-ASEAN Comprehensive Strategic Partnership at the annual US-ASEAN Summit later that day."
Along with the ASEAN Five Point Consensus, they also discussed the crisis in Burma and ASEAN's reaction, highlighting the international community's crucial role in restoring of democracy and stability in Burma.
In addition, Biden urged releasing activists like Seng Theory and a dual US-Cambodia citizen arrested on politically motivated allegations. The commitment of the United States to the Cambodian people and their goals for a more wealthy, democratic, and independent nation was reaffirmed by President Biden.