UNEP in its report estimated that around 17 percent of the food available to consumers, which amounts to 1.03 billion tonnes, was wasted in homes, retail outlets, and restaurants in the year 2019.
Food is more than just what we eat. In this world of almost eight billion people, food is something that connects everybody. For our existence, we depend on food and need it in order to survive. But in this world of billions, there are millions of people who don't get enough food to survive and are unable to afford a healthy diet. What if someone tells you that a lot of people are unable to eat enough because you instead of finishing your leftovers, just let them go in dustbins? Feeling bad?
According to a recent Food Waste Index Report 2021, the UN Environment Programme (UNEP) has estimated that around 17 percent of the food available to consumers, which amounts to 1.03 billion tonnes, was wasted in homes, retail outlets, and restaurants in the year 2019. The report also suggests that some food is even lost on the farms and in supply chains, indicating that overall a third of food is never actually eaten.
The report produced by United Nations Environment Programme (UNEP) and WRAP, a non-profit organisation, created a Food Waste Index (FWI) to seek support efforts to halve food waste by 2030. These efforts are being made in order to help billions of people who are badly impacted by hunger and are unable to afford a healthy diet. Apart from these benefits of fair distribution of food resources, the report also pointed that this global food wastage problem is even harming the environment.
Food lost before reaching consumers:
While analysing and modelling over most comprehensive food waste data collection, the study found that almost 61 percent of the waste belongs to household waste while foodservice accounts for 26 percent and retailers account for 13 percent of the waste. With this record, the UN is pushing towards steps that could reduce food waste globally. The researchers are also working towards an assessment of waste that will provide information regarding the food that gets wasted before reaching the consumers.
There are still many countries left whose food waste has yet not been quantified, therefore the scale of the problem is yet not cleared.
According to the report, the issue of food waste was majorly thought of as a problem of rich countries. But this report published by the UN found that the levels of food waste are surprisingly similar in almost all nations and is just not limited to rich countries, though the data is deficient in quantity in poor countries.
Food waste has environmental impacts:
The report estimated that around 8-10 percent of global greenhouse gas emissions are caused due to food that goes wasted. Reducing food waste can help us cut down greenhouse gas emissions, slow the destruction of nature through land conversion and pollution. While less wastage of food will also enhance the availability of food and thus reduce hunger and save money at a time of global recession.
The UNEP Executive Director Inger Andersen said, "If we want to get serious about tackling climate change, nature and biodiversity loss, and pollution and waste, businesses, governments, and citizens around the world have to do their part to reduce food waste."
Steps to reduce food waste:
As per the report, the UN is planning to expand food waste management programs across the globe, including countries in Africa, Latin America, and Asia. UNEP will also launch regional working groups to aid the capacities of different countries to measure and record food waste in time for the next round of Sustainable Development Goal for reducing food wastage.
It has also been suggested that the food that can't be consumed by humans can be diverted to animal feed or composting so that unconsumed food can be managed in an environmentally preferable way. Food can be too important and precious to waste.
Brutal Assault on the Brazilian Government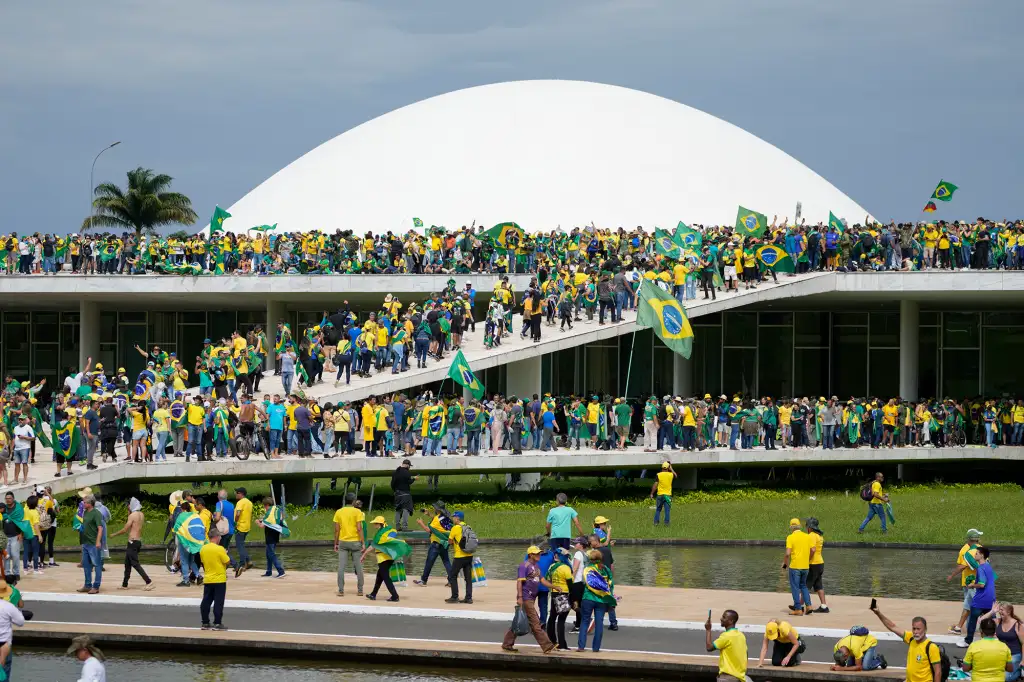 Many believed that thousands of Jair Bolsonaro's followers assaulted Congress, the presidential mansion, and the highest court in Brasilia on Sunday to start a military coup. Since President LuizInácio Lula da Silva triumphed in a closely fought runoff election on October 30, many Bolsonaro supporters have pleaded with the military to intervene. After a divisive campaign highlighting the country's bitter divisions, it was the most significant attack on Brazil's key institutions since the end of a military dictatorship and the return to democracy in the 1980s. Here is what you need to know about brutal assault on the Brazilian government.
Why was the election such a spectacular event:
This election was so dramatic because it depicted two enormous characters representing opposites in politics. Leftist Lula, a former labor union leader, is admired by those who credit him with putting policies in place that lifted millions out of poverty during his two terms in power from 2003 to 2011, but despised by those who see him as a symbol of corruption. In 2017, he was found guilty of corruption and money laundering and was given a nearly 10-year prison term. He was a 77-year-old cancer survivor who was released in 2019 following the adoption of a new detention policy by the Supreme Court. The Court later overturned his conviction on procedural grounds in 2021. Former army captain Bolsonaro, 67, has been hospitalized several times since being stabbed while campaigning in 2018. His supporters view him as a defender of traditional family values and a campaigner against corruption, which are crucial campaign issues in a predominantly conservative country. The president's opponents have referred to him as a far-right authoritarian and said he has promoted sexism, racism, and homophobia.
How did the vote count turn out:
Lula won the runoff election by a razor-thin margin of 51% to 49% over Bolsonaro. He entered office on January 1 with the promise of uniting a nation whose divides had, if anything, grown worse throughout the campaign. On the day Lula was validated, Bolsonaro supporters set fire to vehicles in the city's downtown area, and in late December, a device was discovered in a fuel truck close to the airport.
Why were Bolsonaro's followers calling for military action
Bolsonaro's supporters want the military to intervene because, during the election campaign last year, Bolsonaro and his allies spread a significant amount of false information and made snide remarks about the political process. When the country's long-established electronic voting system was attacked with unsubstantiated accusations by the then-president, his supporters began to question the validity of the results. Conflicts with the country's courts arose as a result. Even though his followers organized sizable rallies and spread conspiracies, Bolsonaro waited two days after the runoff to make an unclear speech and has never publicly admitted defeat.
After the election, What did his followers do:
In the days following the election, trucks were used to block roadways all around the nation before being removed on a court order. Then, in anticipation of a military intervention they believed Bolsonaro, who frequently talked favorably of Brazil's previous dictatorship, had hinted at in his rallies, crowds of supporters started to amass outside army headquarters across the nation. Even when Lula assumed power, hundreds still camped outside the bases.
What transpired in Brazil:
In Brasilia, On January 8, tens of thousands of rioters assaulted Congress, the presidential palace, and the Supreme Court, leaving a path of devastation with many clad in Brazilian flags or sporting the yellow and green national jersey. Historic structures were defaced, while journalists and police officers came under attack. The palaces' windows were broken by furniture being hurled through them. The doors to the closet where Judge Moraes' robes were stored were pulled off, and the justice's chairs in the highest court were thrown around. Videos online showed the vandals carrying the piece of wood bearing the justice's name as if it were a trophy. Several works of art were torn or scratched, including the well-known 20th-century painter Di Cavalcanti's painting Asmulatas.
What were people's responses to the attack:
Members of the military police began removing the rioters from the buildings after they had been free to wander for around three hours. It took another four hours for the attackers to leave the area. While in Sao Paulo to assess the effects of the recent torrential rains, Lula delivered an enraged address in which he demanded immediate intervention in the Federal District government. He accused Bolsanaro of being the reason for the disturbance and pledged to punish anyone who took part or helped finance it. After clearing the premises of the rioters, Bolsonaro denounced the "depredations and invasions of public facilities, but claimed that the incident was comparable to acts done by the left in 2013 and 2017. Both of those years saw sizable but significantly less violent public demonstrations. Bolsonaro denied Lula's accusation that he was complicit. Moraes also ordered the removal of the encampments in front of the army headquarters, which resulted in around 1,500 arrests, and suspended the Bolsonaro-supporting governor of the Federal District for 90 days at the same time.
Numerous inquiries started practically right away, and more are currently being explored. The Federal District's civil police kept track of the several people detained following the riot. The federal police and the federal highway police are looking into who may have helped Bolsonaro's supporters set up camp in front of the army headquarters for such a long time, as well as the funding of the buses that transported rioters from other states to Brasilia. To receive information about people accountable for the turmoil on January 8, the Ministry of Justice set up a dedicated email account. The municipal and federal governments are conducting internal investigations to look into potential collusion between the security officers and the vandals. It's being discussed to launch a congressional investigation in February.