"The Chinese charm you when they want to charm you and squeeze you when they want to squeeze you; and they do it quite systematically."
– 'The Revenge of Geography', Robert D Kaplan
​It has been a century of glory, a century of turmoil, a century of single-party leadership, a century of suppression of dissent and human rights, and a century of disdainful pursuit of Mao's Chinese dream. On one hand there has been the pressure to create a magnanimous image in front of the suppressed Chinese populace, and on the other lies the consequences of lofty ambitions of expansionism, colonisation of nearby islands, economic take-over of poorer nations in Asia and Africa, and military arm-twisting in the region. There are thousands of stagnated overseas projects, incomplete military R&D accompanied by struggling military equipment sold to other countries, and the notoriety brought in by spreadingCOVID-19 and bringing the world to a standstill for almost two years. Is Xi Jinping caught between the devil and the deep sea?
​Having enjoyed an absolute monopoly of power, the Chinese Communist Party (CCP) has authoritatively ruled China for a hundred years now. Motivated by the Bolsheviks, and sold to the innocent people as a party for peasants, workers and students in 1921, the past 100 years of CCP have been stained with brutal massacre of student protestors at Tiananmen Square in 1989, unceasing Human Rights violation and harsh repression of Uyghurs and other Muslims in the Xinjiang region, and the sudden disappearances of media activists who have voiced their opinions against the party or its members. It has been reported that the detainees in the re-education camps of Xinjiang province are forced to pledge loyalty to the CCP, forego religious (Islamic) practices and patronise Mandarin.
​The CCP in pursuit of Xi's Chinese dream of becoming a global leader in 2049 has initiated manyambitious but crafty projects like the Belt & Road Initiative (BRI) and has pumped many irrecoverable loans into smaller Asian and African countries. In addition, millions of dollars' worth money has been invested in building military infrastructure and progress territorial/ seaward expansion to assert China's illegal claims on bothland and sea. However, of late, the world has woken up to the Chinese deceit.
​The genesis and spread of COVID-19 from China has fuelled anger, suspicion and reluctance for the world to engage with China. The post-COVID world order, with horrific examples of economic and financial meltdown of client states like Pakistan and Sri Lanka, has further marred China's reputation. China is being called out more and more for its illegal military aggression in the South China Sea, debt-trap diplomacy, IUU (Illegal, Unreported and Unregulated) Fishing, unauthorised spying usingcivilian research vessels, and ultimately the COVID-19 pandemic. Even its traditional clients in Asia and Africa are getting wary. The world at large neither finds China as an honest investor to expand trade and commerce nor do the bigger multi-national brands prefer to invest in China for their manufacturing/ production hubs and businesses.
​The years ahead look even more bleak. The humungous amount of money lent by China in most developing countries either as part of BRI or Debt-trap diplomacy are unlikely to credit their balance sheets in the years to come. While this certainly affects the Chinese banks, but it also hampers contribution of that money into their own GDP/ national economic efforts including businesses and domestic investments. As Xi Jinping is headed for an unprecedented third term in power, the country is likely to dive into rougher waters. China's failed 'Zero-COVID' policy and re-emergence of widespread infection has brought the nation and the Chinese economy to a standstill. Failure of Beijing Olympics has reinforced the already shaking global confidence in a tightly choreographed China.
The so-called unity within the CCP is dwindling and is likely to intensify in the days to come. Crackdown on opposition and disappearance of lawyers and human rights activists is causing massive chaos in the Chinese hinterland. Thanks to brutal control over media, China has managed to mute news reports about hundreds of protests in provinces like Hong Kong, Tibet, Xinjiang etc which may trigger the beginning of a major revolution against the present order. Only time can predict tomorrow's China, but today's China is a grim story of political turmoil, military mis-adventures, slow economic growth, shaky reputation and an authoritative government.
"Let people eat cake" says Pakistan Navy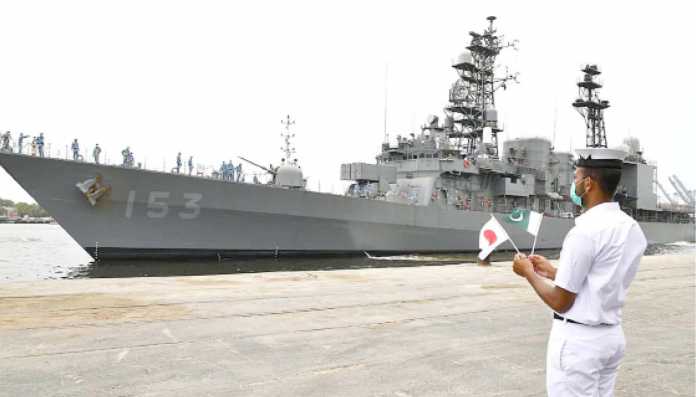 In 1789 during yet another famine in France, the princess Marie Antoinette upon being told that the peasants had no bread, is said to have replied with frivolous disregard for the starving peasants with the words "Let them eat cake". Today, the condition of the Pakistani citizens is quite similar to the French peasants of 1789.
The desperate economic conditions in Pakistan and the impact of floods has led the Finance Ministry to issue directives for implementing strict austerity measures for year 2022 – 2023. These measures aim to curtail operating expenditure and reduce the economic burden of the people.
However, it seems that these directives never reached their Navy.
Very recently, Pakistan Navy Ships Shamsheer and Nasr visited Yokosuka Port in Japan with an aim to participate in the International Fleet Review. In much contrast to the government verdict of "no unnecessary expenditure", the visit was neither mandatory nor of importance. However much to the citizen's dismay, neither the empty coffers nor the grave economic situation of the people seemed to deter the Navy from going on a tourism cum shopping spree.
Pakistan Navy Ships visit Yokosuka Port in Japan
In economically stable conditions, a Naval ship's visit to a foreign port would have been welcomed by the citizens. However the economic burden posed by  these activities have quadrupled the fear of a complete breakdown of society. While the cost of fuel for such a long voyage is in itself a huge deterrent, the fact that the ships will be stopping at almost five to seven countries during the futile passage, has made matters worse.
Monetary Implications of this cruise
Let's look at the basic requirement of a naval voyage. The mandatory requirements include buying stores, fuel/lubricants, undertaking necessary repairs, paying the crew in international currency etc. But is this all? Definitely not. Each stop at a foreign port will require a mandatory interaction with the diplomats, exchange of gifts, parties with great pomp and show to announce the naval ships' arrival, preparation of native cuisines etc.…The expenditure is definitely mind boggling.
Who is paying for this?
All this is paid through already depleting foreign reserves. Therefore understandably, if news of such frivolous expenditure, especially in these trying times were to reach the general public there would be a furore, and a well justified one. But Pakistan's Navy has been clever, or at least it thinks it has been.
Where normally, all port visits are turned to a media circus by the Navy, this time not a single press release is available on the open media. Why? Because of a stringent gag order on issuing media bites by the government. The Navy has warned cruising ships to conduct events without the presence of press. The aim apparently is to prevent citizens from becoming aware of this trip to Japan. Pakistan's naval commanders seem to be relying on their belief (definitely flawed and misguided) that – ordinary Pakistani citizen are like the proverbial ostrich with its head buried in the sand – what it cannot see, does not exist!
In today's world where information travels faster than light – there are enough people who monitor everything. Which is why hiding the journey of two huge warships was definitely worthless. As soon as a local net-hawker identified the movement of the naval ships – the world and entire Pakistan was made aware of the secret journey.  The Maverick could not outfox these people.
Frivolous Spending in Desperate Times
While one may still be able to find an excuse for Navy's foreign visits, but what about the inflating expenditure on the procurement and projects, which are of no immediate importance? As pointed out by social media users a few days earlier, the Pakistan navy has been planning to procure four Frigates (each from Turkey and China), four to eight Corvettes (from the Netherlands), eight submarines (from China) and almost ten new aircraft for its maritime fleet.
Which brings a very interesting scenario to light – the huge lack of communication between the Pakistan's government and its navy. On one hand the government has been insisting on cutting down operating costs and even travel/fuel usage by every ministry and service, but on the other, the Armed Forces are on a shopping spree. And whose money are these forces using?  The question that the citizens of Pakistan need to ask is despite the mushrooming economic crisis, why is there a need to undertake such frivolous expenditure/cruises? And if they are really necessary, why the extra effort to hide it?
Many Pakistanis have already started asking such questions, a mass outcry is not far. And while the Pak armed forces especially its navy may pretend to be blissfully unaware of their countrymen's plight, they must realize that secret voyages will not help the deplorable situation of their country and their fellow countrymen.
This article has been contributed by Commander Abhishek Rathi (Retd), Indian Naval Officer
Commander Abhishek Rathi (Retd) is a retired executive officer and holds an experience of commanding two naval warships. He has a keen interest in maritime history and technology. The officer is also an avid nature photographer and likes traveling all across India for it.