1. De-escalation
India and China on Thursday agreed to resolve the outstanding issues in an "expeditious manner and in accordance with the existing agreements and protocols" and said the two sides will continue to sincerely work towards complete disengagement of the troops along the Line of Actual Control (LAC) in Ladakh.The two countries held the 18th meeting of Working Mechanism for Consultation and Coordination on border affairs on Thursday and agreed that restoration of peace and tranquillity in the border areas would be essential for the overall development of bilateral relations.
India has been demanding status quo ante — of troops on both sides returning to locations before the standoff. Failing to achieve a breakthrough, India has begun preparing for extended deployment on the LAC.
2. Indian Dr. Kotnis's bronze statue to be unveiled in China
A bronze statue of Indian doctor Dwarkanath Kotnis would be unveiled outside a medical school in North China next month. He is revered in China for his contributions during the Chinese revolution headed by its founder Mao Zedong and the World War II.
China's Ambassador to India Sun Weidong has said that India and China should attract each other like magnets rather than be separated forcefully.
In an interview with CNBC-TV18 on August 28, Weidong emphasised the need for the two countries to meet halfway in order bring the bilateral relationship back on track. He said it would be a miscalculation to treat a close neighbour as an enemy on the basis of one incident, referring to the recent clash between Indian and Chinese troops at Ladakh's Galwan Valley in June earlier this year. Source: WionNews
3. Advancing Indo-Vietnam bond
Vietnam has been angered by satellite images showing China recently deployed at least one H-6J missile-carrying bomber to Woody Island, one of the disputed Paracel Islands in the South China Sea.The images prompted Vietnam's foreign ministry last week to warn the bombers' presence on the island – known as Yongxing in China and Phu Lam in Vietnam – not only violated Vietnamese sovereignty but "jeopardised peace" in the region.The images are thought to have been high on the agenda when Vietnamese ambassador Pham Sanh Chau met Indian Foreign Secretary Harsh Vardhan Shringla last Friday to brief him on escalating tensions in the South China Sea. They are also thought to have featured in discussions during a virtual meeting between Indian external affairs minister S. Jaishankar and his Vietnamese counterpart Pham Binh Minh on Tuesday.Carlyle Thayer, emeritus professor of the University of New South Wales at the Australian Defence Force Academy, said this was not the first time China had deployed bombers to the Paracels – it dispatched several H-6K long-range bombers there in 2018. However, Vietnam's openness about the ambassador's meeting was significant."Given that [this time] Vietnam made its brief to India public, it is likely that Vietnam is engaging in a diplomatic exercise to call out China's actions with the objective of eliciting political support," Thayer said. Source:HT
4. Advanced fighter jets sent to nearby airbases
China and India have reportedly sent their most advanced fighter jets to airbases near their disputed border region in the Himalayas, where a stand-off continues.
According to a Forbes report on Monday that cited commercial satellite imagery, two Chinese J-20 stealth fighters have appeared at the Hotan airbase in the far western Xinjiang region.
The airbase is China's closest – about 320km (200 miles) – to the disputed Aksai Chin region.India has meanwhile deployed five new Dassault Rafale fighter jets to Ladakh, the Hindustan Times reported last week. It said the Rafale fighter jets had been practising night flying in the mountainous terrain of Himachal Pradesh.
5. 'India first' policy, China port deal a mistake: Sri Lanka
Sri Lanka wants to pursue a "neutral" foreign policy but will retain an "India First" approach in strategic and security matters, foreign secretary Jayanath Colombage has said.
Speaking to a Sri Lankan TV channel, Colombage said on Monday, "President (Gotabaya Rajapaksa) has stated that in terms of strategic security, we will follow an 'India first' policy. We cannot afford to be a strategic security threat to India and we don't have to be. We need to benefit from India. The president has clearly said that you are our first priority as far as security is concerned but I have to deal with other players for economic prosperity." Along with pursuing a neutral foreign policy, Sri Lanka will protect India's strategic interests, he added. In his remarks, the foreign secretary, the first from the armed services, said the decision to give Hambantota port on a 99-year lease to China was a "mistake". Source:TOI
6. India's counter to Thai Canal project/ Kra Canal
According to top military officials, India will upgrade the airstrip at INS Kohassa, Shibpur in north Andamans and at the Campbell strip at Nicobar into full-fledged fighter bases. The airstrip at Agatti, in Lakshadweep will also be upgraded for military operations to secure both the Bay of Bengal upto Malacca Straits and Arabian Sea up to Gulf of Aden.
7. India to raise new Air Defence Command in October
The department of military affairs under Chief of Defence Staff (CDS) General Bipin Rawat has hastened the process of restructuring the armed forces and a new Air Defence Command under the Indian Air Force (IAF) may be set up at Allahabad.
"The work has been hastened to prepare the structure of the command under an Air Force officer. Efforts are being made to put everything together and announce the creation of the air defence command at Prayagraj around the Air Force Day on October 8 this year," government sources were quotes as saying.
8. Kavkaz- Trilateral exercise between India-Pak-China in
India is sending a tri-services contingent of around 200 personnel to Southern Russia in September for participating in a multi-lateral Kavkaz-2020 exercise, Indian Army sources said.
Along with several other countries, troops of China and Pakistan are also likely to participate in the event, sources said. The Indian contingent would include 160 personnel from the army, along with 40 troops of the Indian Air Force and two Navy officers for the observers there.
The exercise is being held in the Astrakhan province of Southern Russia where member countries of Shanghai Cooperation Organisation and Central Asian countries would be participating. Source: NDTV
9. India stops oil purchases from China
Indian refiners have stopped buying crude oil from Chinese sellers, according to a Reuters report that cited unnamed sources.
The move, according to the report, comes as a result of new legislation passed by Indian lawmakers that aims to restrict imports from the country's neighbours after bilateral relations with China deteriorated following a border clash that involved fatalities on the Indian side. Source:OilPrice
By Kunjan Ahluwalia
Assassination of Shinzo Abe & Salman Rushdie – Know Real Facts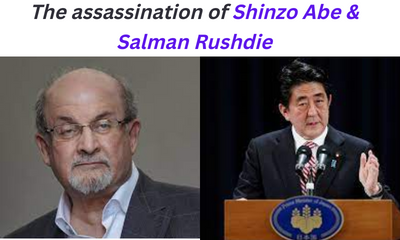 The months July and August of 2022 saw two cases of extermination to promote the fear of terrorism. One of the assassination of Shinzo Abe former Japanese Prime Minister, and another of the famous Novelist Salman Rushdie.
Shinzo Abe succumbed to a gunshot wound, whereas Rushdie's health conditions are improving and he is under medical supervision after the knife attack. However, various assassination attempt of Salman Rushdie has been made during the year.
These two terror acts force us to think about the impact of terrorism on society, the main objective of which is to create an atmosphere of fear so that citizens of the country cannot rely on their government.
This ultimately disturbs the law and order of the society, and serves the terrorists' purpose of creating a chaos.
Here we will see how these two attacks had different reasons but the objective remained the same – to stop someone from propagating his/her opinions independently, and also the factors that make attackers indulge in such acts.
Assassination Attempt of Salman Rushdie – Satanic Controversy
On 12 August 2022, Rushdie was attacked several times by a 24-year-old man Hadi Matar. The attacker's intentions can be linked to Rushdie's fourth novel, The Satanic Verses, published in 1988. Some Muslims considered the novel disrespectful towards Prophet Mohammed.
Soon after its publication, the novel sparked a 'fatwa' or a religious decree. The Iranian revolutionary leader Ayatollah Ruhollah Khomeini called for Rushdie's death in 1989. After, this various assassination attempt of Salman Rushdie has been made.
Complete conversation for Salman Rushdie Assassination:
When asked about the attack Hadi Matar said, "I don't like the person. I don't think he's a very good person. I don't like him very much". He further criticised Rushdie's work by saying, "He's someone who attacked Islam, he attacked their beliefs, the belief systems". Mr. Matar also told New York Post that he had only read 'a couple of pages' of the book and did not tell about whether the fatwa had inspired him or not.
While praising the Iranian religious leader, he stated, "I respect the Ayatollah. I think he's a great person. That's as far as I will say about that".
One can observe that the psychology of the attacker was that he simply disliked the novelist because of his work; although he read only two pages of the novel, but was rather influenced by the religious leaders and their sayings. Just, like this the assassination of Shinzo Abe has been made during this year, which we will discuss on next section.
Perceptions like these can have a long-lasting impact on future generations which can further deteriorate the situation. Violent acts like this demand proper scrutiny of the dissemination of information.
Extremists take advantage of such incidents and brainwash the young minds so that they can be used by them for their selfish purposes.
Assassination of Shinzo Abe – Complete Truth
On 8 July 2022, it was just another day of Abe's political campaign for the upcoming parliamentary elections. He was delivering a speech in Nara City, but no one is the aware about the assassination of Shinzo Abe that day. When a 41-year-old Tetsuya Yamagami shot him twice from behind from a distance of about 10 meters.
During the investigation, he confessed his intentions of killing and it was found that his motives had more to do with religious backing instead of a political reason.
It so happened that Yamagami's mother was a member of a religious group which she joined after her husband's death in 1998. She used to donate huge amounts of money as charity to the group, after the assassination of Shinzo Abe and Yamagami blames the sect for bankrupting his mother.
Confession Statement on Abe Case
The report reveal that Abe was closely associated with the sect, and wanted to take revenge against him for promoting it. "The suspect stated that he held a grudge against a particular organisation and that he committed the crime because he believed former Prime Minister Abe had a connection to it", a senior police officer in Japan's Nara region told reporters.
While the police hasn't given any clarification regarding the unidentified organization, social media in Japan has it that it could be the Unification Church.
Yamagami was unemployed, felt isolated in society, was against religious preaching and blind faith, and wanted to kill the leader of the religious organization but couldn't. One can see the psychological aspects of it that, the killer was anguished with the organisation and blamed them for his conditions and economic turmoil.
Ultimately his grudge converted into a motive of taking revenge for his loss and he did that by killing the perpetrator of the religious group, to give a message to the society and the world that one should avoid themselves from joining or contributing to such groups.
Japan has the strictest gun laws after the assassination of Shinzo Abe , so to bypass such stringent laws the killer used a handmade gun. The occurrence of such incidents in the island nation shows how much resentment the killer has and how strongly he was motivated to commit the murder.
Such incidents are eye-openers for the society that someone's freedom of belief can become others' pain, and teaches that as a society we should try to maintain a balance between them.
Two Paths to Crime
The above two accidents of assassination of Shinzo Abe, and the assassination attempt of Salman Rushdie has been terrifying for the country. First, being a part of a religious group the killer face hardship in his life, which forced him to commit the crime. In the second instance, the attacker got the impression that his religion is being targeted and that it is his responsibility to take revenge so that next time no one dares to do anything like that again.
Interpretation of things based on pre-assumed thoughts can lead to revenge, and revenge based on half-baked knowledge causes harm to the whole humanity, and not just the particular group concerned.