The ongoing crisis in Mali has wreaked havoc globally. World leaders are condemning the coup d'etat in Mali as Malian President Ibrahim Boubacar Keita stepped down on August 18. Keita along with Prime Minister Boubou Cisse were arrested by the mutinous soldiers. Observers suggest that the mutinous soldiers are threatening to further destabilise and jeopardize counter-insurgency efforts led by France and the United States. Growing international concern around instability in Mali and West Africa is not irrelevant or sensationalised. The threatening extremism by the coup is a driver of illegal migration to Europe.
National Committee for the Salvation of People (CNSP)
The military group, which identifies itself as the National Committee for the Salvation of People (CNSP), said in an address to the nation it would oversee a political transition, new elections and a curfew, CNN reported.
A member of the CNSP, Colonel Major Ismael Wague, accused Keita's government of corruption and failure to address threats by extremist groups in the region, among other grievances, CNN reported.
The coup was welcomed by anti-government protesters in Mali's capital city of Bamako who had taken to the streets since June calling for the president to step down, The Associated Press reported.
Resignation
Malian President Ibrahim Boubacar Keita announced his resignation late Tuesday on state television. Various media reports suggest that the announcement came after Keita was held by the the CNSP. Regular demonstrations and rebellions against Keita and his position boiled down to his forced resignation. .
Keita spoke to Malian national broadcaster ORTM just before midnight and said his resignation was effective immediately. The ORTM TV channel referred to him as the "outgoing president."
"I wish no blood to be shed to keep me in power," Keita said. "I have decided to step down from the office." the mutineers detained him at gunpoint, further rocking a country that is in the grip of a jihadist insurgency-plagued by civil unrest.
He also announced that his government and the National Assembly would be dissolved, certain to further the country's turmoil amid an eight-year Islamic insurgency and a growing coronavirus pandemic.
Roots of havoc
It was in 2012 that the roots of the current mutiny in Mali reside. Libya's 2011 civil war followed an armed coup in Mali the very next year. It was carried out by soldiers opposed to what they saw as a weak response to a growing separatist insurgency by Tuareg rebels in the country's north.
Former coloniser France, along with the UN, has maintained a peacekeeping mission in Mali since 2013. Keita was elected in 2013 with a mandate to pursue peace talks.
Media reports reveal that in 2015, a deal with some rebel groups was signed, granting greater autonomy to the northern region. Experts around the world criticized the deal for failing to include other armed factions. Some experts from the Africa Program highlighted a few criticisms of the deal:
Lack of Stakeholder Inclusivity
Lack of Geographic Scope
Weak Political Buy-In
The Accord is crumbling due to three interlinked issues: (1) its failure to engage all actors contributing to instability, (2) its limited geographic scope, and (3) limited commitment and political buy-in from its signatories and guarantors.
In 2008, Keita was re-elected in a vote marred by low turnout and allegations of fraud. Armed groups have drawn upon deep resentment toward the state over rampant corruption and human rights abuses by security forces.
United Nations intervention
The United Nations has joined global condemnation of the military takeover in Mali, which saw President Ibrahim Boubacar Keïta forced to resign.
The UN's Security Council echoed similar calls by regional bodies for the immediate release of all government officials and the restoration of constitutional order.
UN Secretary-General Antonio Guterres sought "the immediate restoration of constitutional order and rule of law," UN spokesman Stephane Dujarric said.
Canada
Foreign Affairs Minister Francois-Philippe Champagne says Canada condemns the junta that forced Mali's president from power this week.
Champagne said Canada, which still has a handful of military officers and police working with the UN in Mali despite wrapping up a year-long helicopter mission last September, called on Malian security forces to follow the constitution and respect human rights.
He also said that any Canadians in Mali who need emergency assistance from consular officials should get in touch with the Canadian embassy in Bamako or call Global Affairs Canada's emergency hotline.
American Embassy in Mali
The U.S. embassy in Mali released alerts on its website. The security alert for Bamako, Mali, read: The U.S. Embassy is aware of the implementation of a nationwide curfew from 9:00 p.m. to 5:00 a.m. and the closure of Malian air and land borders until further notice. Modibo Keita International Airport in Bamako is closed and commercial flights have been suspended. Sporadic gunfire in Bamako was reported this morning. The U.S. Embassy cautioned that demonstrators may mobilize without advance notice and recommended that all U.S. citizens remain vigilant. Likewise, the U.S. Embassy is recommending its staff exercise caution, remain indoors, avoid non-essential travel, and respect the nationwide curfew.
The U.S. Embassy has taken the following additional steps in response to the ongoing security threats:
Implemented a curfew from 9:00 pm to 6:00 am until further notice.
Personnel are recommended to remain indoors.
Employees have been advised to avoid any unnecessary travel until further notice and to be cautious when crossing the bridges.
United States condemnation
Secretary of State Mike Pompeo on Wednesday condemned the military coup in Mali and called for the release of arrested government officials and their families, as well as assurances about their safety.
Pompeo labeled Tuesday's events a "mutiny" and called on "all political and military actors to work towards a restoration of constitutional government."
"The United States strongly condemns the August 18 mutiny in Mali as we would condemn any forcible seizure of power," the secretary said in a statement.
"We urge all stakeholders in Mali to engage in peaceful dialogue, to respect Malians' rights to freedom of expression and peaceful assembly, and to reject violence."
Why Olaf Scholz, Chancellor of Germany, is sending a message of Independence by visiting China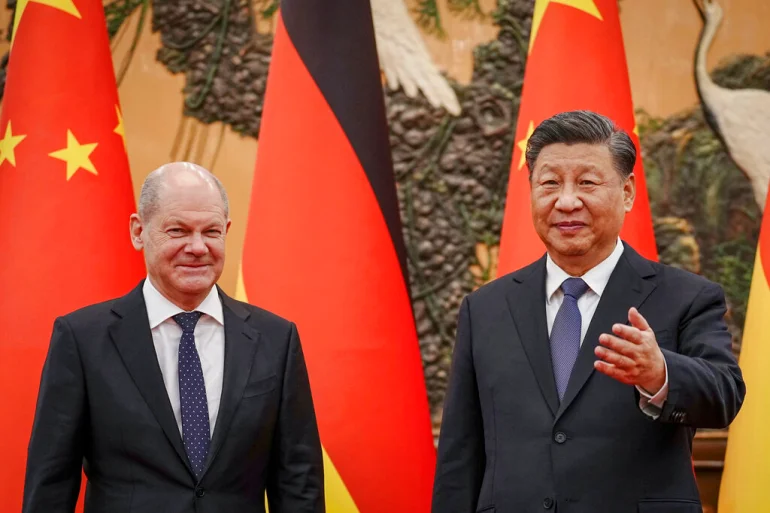 German Chancellor Olaf Scholz was the first G7 head of state to visit China since the outbreak. After the public health crisis, the world changed. The relationship between China and Germany seems to be returning to normal. Since Xi Jinping was re-crowned as the General Secretary of the Communist Party of China, Scholz is the first prominent European figure to visit China.
Nguyen PhuTrong, the head of the Vietnamese Communist Party, Shehbaz Sharif, and Samia Hassan, the president of Tanzania, arrived in Beijing before Scholz. Given that China's relations with Europe have deteriorated due to Uyghur human rights in Xinjiang and Chinese support for Russia in the Ukraine conflict, the Scholz visit last week was positive for Beijing.
Germany's biggest European economy will be even more reliant on China in the first quarter of 2022. During this time, Germany invested €10 billion in China. The amount of bilateral commerce increased by 0.9% to $173.57 billion. Imports from Germany are up 54%. The medium-term ambitions of Germany are in jeopardy due to its 1.9% growth rate.
German investment in China grew by 30% in 2022 despite the Ukraine crisis and criticism of China. A €69.5 billion railway project connecting Tianjin, in North China, and Beijing Daxing International Airport is being financed by KfW (the German state-owned development and investment bank), BASF, Hella, and Robert Bosch. For a total of $17 billion, China is purchasing 140 Airbus planes. Costco, a Chinese shipping business, was permitted to invest in Germany's busiest port, Hamburg, prior to the visit, but with a smaller share. Additionally, the arrival of Scholz coincided with polarization and deteriorating US-China ties. Due to the Ukraine conflict, Germany soon adopted a similar strategy to the US, breaking its contact with Russia.
It maintains caution regarding China because its economic interests are crucial. Scholz met with PM Modi in Berlin after starting his Asia strategy with a visit to Japan rather than China. Germany's foreign policy did not give China top priority, but it is nevertheless significant. It looks inconvenient that the visit comes right after the CCP's 20th National Congress.
Germany confronting China alone has angered Europe. Germany rejected the joint Scholz-Macron visit. The visit by Scholz and a corporate delegation demonstrates a duplication of Angela Merkel's approach. German businesses, which are already suffering from the epidemic, the energy crisis, and the break from Russia, according to the ruling SPD, cannot afford to decouple from China. The German Foreign Ministry criticizes China's human rights record and is developing a new China strategy to counter the systemic rivalry that the EU anticipated.
The Scholz visit revealed strategic independence in Germany. When viewed from the perspective of German relations with Russia, the same autonomy is apparent.
If Germany sways away for its own reasons, how will it continue to lead Europe? Scholz needed to pull many savvy rabbits out of his Beijing visit if he wanted to position Germany and potentially Europe as independent players in the inevitable US-China polarization.
Scholz provided background information for his visit in an opinion piece that was published in the FAZ the day before. Since Merkel's most recent trip to China in 2019, he admitted that the world had undergone significant upheaval. It was crucial to have a face-to-face meeting with Xi in order to address the world's unresolved problems, not because he intended to carry on as normal. China had seen a major upheaval. The German approach had to adapt as well because China had changed.
Additionally, the world had changed. Russia posed a menace that needed Chinese assistance to counter. China was reminded of its unique duty to uphold the UN Charter's ideals and exert influence over Russia as a permanent member of the UN Security Council. This is similar to what China claims about Russia in its Global Security Initiative, which it has yet to put into action. Scholz talked about the necessity of increasing Germany's partnerships and the multipolarity of the world.
Berlin works with various partners because he does not want to see blocs reemerge. China shouldn't be left alone, and a Chinese-dominated world system cannot be cozy. Germany and Europe continue to value China as a trading partner. Berlin didn't want to cut its ties with it. With China, Germany would want more parity and economic diversification. When it came to rare earth, cutting-edge technologies, or raw resources, "risky dependencies" had grown. German enterprises were developing different supply chains. China and Germany will now look for a differentiated basis for trade and investment. Instead of "protectionism and withdrawal," Germany prefers diversity and strengthening.
Scholz's fourth goal was that the disparities between China and Germany, notably those involving political and civil rights, including in Xinjiang, could not be overlooked. Scholz stated that while Germany adheres to the One-China policy, any change to Taiwan's status must be peaceful and reached via mutual consent.
Germany's China policy, according to Scholz, will be effective if it is in line with European policy. In his opinion, there were various areas where China should have a role, including dealing with the G 20, the SDGs, and other things. Before his visit, he consulted with the EU, French President Macron, and the US.
The Chinese readout supports the majority of what Scholz claimed. To preserve Germany's strategic autonomy, Xi is courting it. Despite Scholz's concerns, it stated that "there should be no self-imposed constraints or unrealistic expectations" and publicly disregarded the Taiwan and Xinjiang issues.
This visit is significant because Germany has again demonstrated its desire for strategic independence from the US. Before the Ukraine crisis, which caused them all to flee in the wake of NATO and US leadership, the German coalition and other German and European nations had this as their top priority. Europe is suffering from sanctions and a diminished energy supply due to the standoff in the Ukraine conflict. Despite resistance from within Germany and outside Europe, Germany appears prepared to continue its relationship with China. It must protect its economic growth against the ravages of conflict.